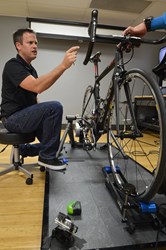 Boulder, CO (PRWEB) January 22, 2014
Team Garmin-Sharp has selected Retül as its official bike fit technology for the 2014 season. For the seventh consecutive year, Retül will work with the team to provide motion-capture bike fit data and analysis of rider positions on road and time trial bikes. In addition to biomechanical data and bike setup measurements that Retül technology provides, this season Retül fitters also will utilize new techniques for analyzing rider data across the entire team.
"When you look at these riders as a whole - how they pedal their bikes, what their positions are and how they move - you start to learn a lot," said Todd Carver, Chief Fit and Education Officer at Retül, who has worked with Garmin-Sharp since 2007.
"This season we'll be able to show the riders their individual measurements in reference to everyone on the team. This is valuable because the staff will have more biomechanical data to draw from as they move through the year and the riders face potential injuries or lapses in performance," Carver said. "I think that's the future of fit at this level. It sounds basic, but what we've learned over the years is that it's very effective to be great at consistently collecting and analyzing fundamental data."
Retül's fit program with Garmin-Sharp typically begins with early-season recording of initial rider positions. Retül fitters collected this data during the team's camp in Boulder in November and will revisit the positions next month during their team camp in Spain. Carver and his team recorded fit data for many of Garmin-Sharp's returning riders whose positions will be maintained throughout the season. Several new riders to the team experienced changes to their road bike positions.
"That follow-up is so important," Carver said. "At that point we'll get feedback on the positions they've been riding since November and see how the changes have been."
Carver believes the longstanding relationship between Garmin-Sharp and Retül and support from Robby Ketchell, Director of Sports Science for Garmin-Sharp, have been keys to building a successful partnership.
"Robby is critical in this whole program. We really hit it off the first year at camp when it became clear our fitting philosophies were very similar," Carver said. "He teaches the riders a lot about bike fit, and the team embraces the fit program 100 percent. Our goal has always been to provide the most data and insight we can, and never to force any changes. It works because of their belief and trust in us that dates back years."
"Retül is a perfect match for all of the data-driven work that we do with the team," Ketchell said. "There is a huge value in doing multiple motion captures using the Retül system throughout a rider's career so that the team can map how performance relates to changes in bike position."
About Retül
Retül provides technology, tools and training to guide bike fitters in helping cyclists improve performance and comfort on their bikes. Based in Boulder, Colorado, Retül has specialized in bike fit solutions since 2007, performing more than 3,000 fits at its Colorado headquarters, consulting nearly 700 businesses on the implementation of Retül technology and teaching almost 300 Retül University courses in more than a dozen countries. Retül is chosen as the official bike fit technology of Garmin-Sharp, Team Sky, Orica-GreenEdge, Team Europcar, MTN Qhubeka, 4-72 Colombia, Colombia Cycling, British Cycling, USA Triathlon and Medicine of Cycling, as well as by numerous world-class triathletes including Ironman world champions Craig Alexander and Leanda Cave. Learn more about Retül at http://www.retul.com.