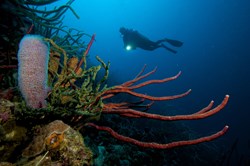 "Bon Bini" Bonaire! From world-class scuba diving and snorkeling to kite surfing and bird watching, Bonaire offers something for every adventure traveler attending The Toronto Ultimate Travel Show.
Kralendijk, Bonaire (PRWEB) January 21, 2014
Bonaire Hotel and Tourism Association (BONHATA) will be at the Toronto Ultimate Travel Show this weekend to promote travel specials to the island of Bonaire in the Dutch Caribbean.
Bonaire residents will be on hand to offer suggestions on accommodations, restaurants, dive shops, activity providers, car rentals and airlines with various Bonaire vacation offers specifically for the Toronto Ultimate Travel Show attendees.
With its ideal location very near the equator, Bonaire offers year-round sunshine (only a bit of rainfall!) and is surrounded by a pristine coral reef with an abundant fish population. World renowned for scuba diving and snorkeling, it is also ideal for adventurers and explorers seeking activities such as kite surfing, bird watching, cave exploring, hiking and mountain biking.
The tranquil and easy-to-get-around island is also perfect for those looking for relaxation, watching the flamingos take their daily sunset flight home to a neighboring island, or learning more about the historical centre Kralendijk by taking a leisurely walk through this lively yet quaint island village.
Food lovers will enjoy a wide selection of cuisines offered, from local "Kriyoyo" to French and from Italian to Japanese.
Located eighty-six miles (136 km) from Aruba and 50 miles (82 km) from Curacao, Bonaire has numerous choices of airlines from hubs such as Toronto (WestJet seasonally), Newark (United), Atlanta (Delta), and Miami (American); plus there are excellent connections available through Miami, Charlotte and Fort Lauderdale using InselAir and Tiara Air who also offer regional connections.
To learn more about the Caribbean island of Bonaire and exclusive show offers, visit booth # 110 at the Travel Show. Book your travel directly on the BONHATA website or contact your favorite travel agent.