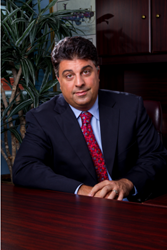 with a general election due before the end of the programme, there may be compromises for political expediency which can derail the relationship with the IMF
(PRWEB) July 23, 2014
Executive Chairman of Cool Group of companies, Joseph John Issa, says in an interview that he feels vindicated about concerns of possible overspending in the next general election due in 2016, which could derail Jamaica's Extended Fund Facility (EFF) with the International Monetary Fund (IMF).
Joey Issa's statement comes on the heels of concerns expressed in the media by IMF Managing Director, Christine Lagarde, who urged the Jamaican Government to refrain from extra spending during the next election season, to ensure that it meets its objectives under the EEF.
"I had not heard anyone looked so far ahead and come to the view that the next general election in Jamaica would be a big test for the government in terms of keeping as tight a lid as possible, on spending so as not to derail the programme with the IMF.
"At the time I thought it might not have been a reasonable or realistic position to hold, given the seriousness of the programme and what it means for the Jamaican economy. But having heard and read the IMF comments, I feel vindicated, and that I'm not alone in my thinking," says Executive Chairman of Cool Group of companies, Joe Issa.
Issa, in an article published on April 7, 2014 entitled 'Chairman of Cool Group of Companies Joe Issa says Jamaica will pass March 2014 IMF test despite challenges, calls for consolidation of gains', had expressed the same concerns as the IMF boss, of possible overspending in the upcoming General Election that can derail Jamaica's relationship with the IMF.
Having noted in the article that there was much more left to be done in terms of maintaining fiscal discipline and stability in the financial system, Issa expressed concerns that these efforts could amount to nothing in the years ahead and cause the programme to derail.
In particular, he argued that with a general election due before the end of the programme, there may be compromises for political expediency which can derail the relationship with the IMF.
Speaking with Dionne Jackson Miller on Television Jamaica's All Angles programme which was aired on July 2, 2014, Lagarde said that "when there is an election that is scheduled, there's always a tendency to overspend, or put pressure on the poor finance minister's shoulders to let go a little bit and to facilitate the process."
It was her hope, she said, that Finance Minister, Dr. Peter Phillips, will be able to resist that impulse in the case of Jamaica's next general election.
However, Lagarde was quick to clarify that this urge to overspend during an election season was not unique to Jamaica and that this was the case everywhere in the world.