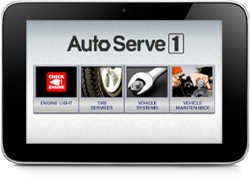 Since using AutoServe1 our ARO is up 17% and my team and customers love it.
Toronto, CA (PRWEB) February 11, 2014
AutoServe1, the leading provider of professional auto service inspection, advertising and selling tools, is announcing the establishment of Preferred Supplier status with AAA. Valid through 2/28/14 all AAA Service Providers can obtain exclusive pricing on AutoServe1 cloud software packages above and beyond the normal AAA special offer.
"We are proud to partner with one of the largest and most trusted automobile membership services in the world," says President of AutoServe1 Jamie Cuthbert. "Our philosophy of Transparency Builds Customer Trust aligns beautifully with AAA. To kick off this relationship, we are offering great discounts to all AAA Service Providers."
There will be four free educational webinars scheduled over the coming weeks for service providers to learn more about the program including: who is AutoServe1, what are the benefits, how to effectively communicate all services and how to build trust and confidence with their customers. AutoServe1 puts its clients solidly in the category of a "high-tech shop" that delivers professional service.
AutoServe1 technology allows AAA Service Providers to use mobile tablets to conduct an accurate digital inspection on every vehicle and then send the exact findings, photos, educational animations and service recommendations directly to their customers in minutes. Now phone calls to gain approvals are easier for both customers and service advisors. The conversations are centered on the facts – reviewing the vehicle photos and measurements and then educational content to help customers understand why certain services are being recommended. Once the value of the recommendations are clearly understood, there is proper context for an informed purchase decision.
"Since using AutoServe1 our ARO is up 17 percent and my team and customers love it!" said Dave Erb, 30-year owner of a AAA affiliate shop in Austin Texas. "Our professional customer reports with pictures deliver great "wow factor" and make it so much easier to build trust and stronger client relationships. It's one thing to find all the work a vehicle needs - it's another for my customers to actually understand what we're recommending."
About AutoServe1:
AutoServe1 has been supplying auto service education and communication tools since 2000. Their software has helped over 1.5 million customers better understand the service recommendations they have received at over 2,000 service centers across North America. AutoServe1 – number 1 in "Creating Trust at the Point of Decision." For more information, please visit http://www.autoserve1.com. (800) 268-3437