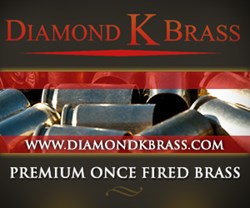 We care about the quality of brass for our customers and wanted to make sure we have the state of the art facility to meet our customers' demands. - Doug Kiley, owder
Scottsdale,AZ (PRWEB) January 21, 2014
Diamond K Brass is a grass roots Once Fired Brass company based in Scottsdale, Arizona and Larkspur, Colorado. They specialize in premium reloading brass for both the recreational as well as the commercial reloading community.
Due to the huge demand of their products over the last year they have expanded their facilities to three times the size of their prior location.
The owner Doug Kiley says, "We care about the quality of brass for our customers and wanted to make sure we have the state of the art facility to meet our customers' demands."
They are seeing an increase in demand for 223 brass, 9mm brass, 40 sw brass, 45 acp brass, 38 special brass and more. Their list of calibers that are available for purchase securely through their website can be found here.
Also, on the home page of their website they share their complete inventory of 60+ calibers that is updated on a daily basis. You can find their latest specials on the site and on their Facebook page.
Their new location is at 7363 E Adobe DR Suite 101 Scottsdale, Arizona 85255 and they can be reached at 855-357-3030.
Please visit their website for any of your once fired brass needs where you can purchase directly online.