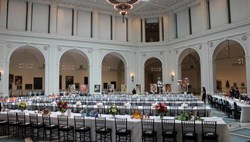 We are delighted to have so many talented artists working with us this year to create an environment that [once again] celebrates Brooklyn's creativity and vitality.
New York, NY (PRWEB) February 10, 2014
The Brooklyn Museum today announced that the Brooklyn Artists Ball, the fourth installment of its annual fundraising gala celebrating Brooklyn's creative community, will take place on Wednesday, April 16. This year, the Museum will honor art patrons Jane and David Walentas and artists Jenny Holzer, Ai Weiwei, and Kehinde Wiley.
Board President Stephanie Ingrassia and her husband, Tim, and Board Treasurer David Berliner and his wife, Betsy Jacobs, will chair the highly anticipated event, the centerpiece of which is the seated dinner where guests dine at multisensory table environments created for the occasion by leading Brooklyn artists. This year, the Museum has tapped 16 artists—Ellen Altfest, Oliver Clegg, Ghost of a Dream, Rico Gatson, Orly Genger, Alejandro Guzman, Nina Katchadourian, Olek, Adam Parker Smith, Iona Rozeal Brown, Carrie Schneider, Alyson Shotz, Courtney Smith, Nick Van Woert, Marianne Vitale, and Heeseop Yoon—to transform 40-foot-long tables into unique installations on view for that night only.
Following cocktails and hors d'oeuvres in the Martha A. and Robert S. Rubin Glass Pavilion, guests move to the sit-down dinner in the Museum's Beaux-Arts Court. Immediately following the dinner, Steph Krasnoff and Museum Trustee Olivia Wolfe will host the After-Party, during which guests will enjoy dessert and take in performances by more Brooklyn-based artists.
The Augustus Graham Medal, presented each year in recognition of a strong commitment to the arts and continued support of the Brooklyn Museum, will be awarded to noted Brooklyn-based real estate figures and art patrons Jane and David Walentas. In addition, acclaimed contemporary artists Jenny Holzer, Ai Weiwei, and Kehinde Wiley will be honored with the Asher B. Durand Award, named for the artist who gave the first work of contemporary art to enter the Museum's collection.
Tickets to the Brooklyn Artists Ball start at $1,000; tables of eight begin at $10,000, and tickets to the After-Party are also available for $100. Proceeds from the event will support the Museum's extensive exhibition, education, and outreach programs.
Additionally, the Ball will include a benefit auction to be hosted online and onsite exclusively by Artsy. It will offer artworks by this year's featured Brooklyn artists. Artist Ball guests and the public may register to bid on Artsy's website now (artsy.net/auction-registration/brooklyn-museum). The online auction preview opens April 7, 2014, and bidding begins April 9, 2014 at noon EST. Bids may be placed at artsy.net or using the Artsy iPhone app.
For more information or to purchase tickets, visit artsy.net/brooklyn-artists-ball or contact Inga Glodowski at (718) 501-6436 or inga.glodowski@brooklynmuseum.org.
About the Honorees
David and Jane Walentas have pioneered the development of DUMBO. As the founder and owner of Two Trees—a New York-based real estate development firm that has owned, managed, and developed more than $3 billion in real estate over the past forty years— David Walentas is the visionary who assembled numerous DUMBO properties thirty years ago and played a singular role in creating this artistic, vibrant, mixed-use neighborhood. Today, DUMBO is one of the most successful urban revitalization developments in the United States.
Today, with Two Trees' enlightened development (and a contribution of 100,000 square feet of space a year to arts groups), DUMBO is a home to emerging and established arts and cultural organizations, creating one of only two Arts Clusters designated by the New York City Economic Development Corporation. Two Trees has also attracted an eclectic mix of residential and commercial tenants, which include Etsy, Huge, Wireless Generation, and scores of others who also make DUMBO one of the city's most vibrant technology sectors.
The community's newest jewel, Jane's Carousel, is a gift from the Walentas family to the people of New York City. The first carousel to be placed on the National Register of Historic Places, it was personally and lovingly restored by Jane and her team and is now housed in a pavilion designed by Pritzker Award‒winning architect Jean Nouvel in Brooklyn Bridge Park between the Brooklyn and Manhattan Bridges. It is even more beautiful than those involved in the project ever thought it would be. The setting on the river is perfect. The five-inch-thick acrylic walls on the east and west facades create a magical, almost fun-house-like distortion of the bridges, the sky and the buildings beyond. Tugboats and barges pass by, and as you spin on Jane's Carousel, you can almost reach out and touch them and the Manhattan skyline. It is truly magical.
Conceptual artist Jenny Holzer is widely known for her large-scale public installations, which include projections, billboards, and illuminated electronic displays of texts. In 1990 Holzer became the first woman to represent the U.S. in the Venice Biennale and was awarded the Leone D'Oro for her pavilion that year. Her work has been widely exhibited and is included in museum collections around the world.
Ai Weiwei is a Chinese artist and activist who gained international recognition for his conceptual work, much of which is critical of his native country's political position on human rights. Ai is known for such major projects as Fairytale, for which he brought 1,001 Chinese citizens to Kassel, Germany, for Documenta 12 in 2007; his collaboration with architects Herzog and de Meuron on the Beijing National Stadium design for the 2008 Olympic Games; and his installation of one hundred million hand-painted porcelain sunflower seeds in the Tate Modern's Turbine Hall in 2010. His political activism has gained worldwide attention through his use of the Internet and social media as active platforms for his commentary and as art forms in their own right. Ai Weiwei was a member of China's first group of avant-garde artists. He moved to the United States in 1981, living in various parts of the country before moving to New York in 1983, where he lived for a time in the Williamsburg section of Brooklyn. He returned to Beijing in 1993. Ai Weiwei: According to What?—the first North American survey of the work of the provocative Chinese conceptual artist, sculptor, photographer, filmmaker, and activist—will be presented at the Brooklyn Museum from April 18 to August 10, 2014. This will be the first large-scale museum exhibition of Ai's work in New York and the final presentation on the exhibition's national tour. The Brooklyn Museum will include several major works not seen in previous venues.
New York-based artist Kehinde Wiley creates hyper-naturalistic portraits of African American subjects in traditionally heroic poses. His paintings make reference to, and are often compared with, traditional portraits of such portrait masters as Reynolds and Gainsborough to Velasquez. Wiley's portrait Napoleon Leading His Army over the Alps is among the first works to greet visitors to the Museum. His work has been internationally exhibited and is included in the collections of many major museums.
About Artsy
Artsy (artsy.net) is the premier online platform for discovering, learning about, and collecting art via cutting-edge technology. Featuring more than 85,000 works from 1,500 renowned galleries and 170 museums and foundations around the world, Artsy is the leading online destination for browsing international exhibitions, museum collections, and arts programs. Artsy is honored to support the fundraising efforts of important art institutions through state-of-the-art Web and mobile ecommerce and auction technology.
About the Brooklyn Museum
The Brooklyn Museum is located at 200 Eastern Parkway, Brooklyn, NY 11238-6052. Its comprehensive collections range from ancient masterpieces to contemporary art, representing nearly every culture. It also presents a wide range of special exhibitions and public programs. T (718) 638-5000 / F (718) 501-6134 http://www.brooklynmuseum.org