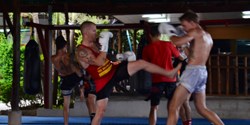 "Since we want to accommodate both the beginner as well as the more advanced student, the time was right to start adding higher-level classes to the schedule."- Jon Delbrugge, Head Coach
Owings Mills, MD (PRWEB) January 21, 2014
Crazy 88 - Owings Mills, a professional MMA gym located in Baltimore, has added Advanced Muay Thai Kickboxing and Brazilian Jiu-Jitsu to its class schedule to accommodate its rapidly growing student base.
Mixed Martial Arts is a combat sport that allows both striking as well as grappling techniques to be used against one's opponent. The popularity of the sport has exploded world-wide with events such as the Ultimate Fighting Championship (UFC) now broadcast regularly.
Two major components of this style of fighting are Brazilian Jiu-Jitsu, a grappling style that was developed from Judo and relies on chokes and joint locks, and Muay Thai, the national sport of Thailand that allows the punches of boxing but combines them with kicks, knees, and elbows.
Head Coach and Professional MMA Fighter, Jon Delbrugge, believes the time was right to expand the schedule. "We opened in September of 2013 and we have experienced lots of growth since that time. Many of the students who just started are now solid martial artists. Since we want to accommodate both the beginner as well as the more advanced student, the time was right to start adding higher-level classes to the schedule."
The new martial arts classes will not only focus on more advanced techniques but also provide more live sparring opportunities to the students.
For more information on martial arts classes at Crazy 88 - Owings Mills, please visit http://www.Baltimore-MMA.com. Classes are offered for both adults and children in the fighting styles of Brazilian Jiu-Jitsu and No-Gi Grappling, Mixed Martial Arts, and Muay Thai Kickboxing. No previous experience is required.