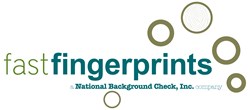 Columbus, OH (PRWEB) January 21, 2014
FastFingerprints, a National Background Check, Inc. company, will be expanding its live scan fingerprinting services to Arizona the first quarter of 2014. FastFingerprints will bring its fingerprint card capabilities to the Gilbert and Scottsdale campuses of the Arizona School of Real Estate and Business. FastFingerprints' live scan fingerprint capture possesses the ability to obtain the best quality fingerprint images, which can then be printed directly onto FD-258 fingerprint cards. Applicants can leave the FastFingerprints facility, with their fingerprint cards, within minutes. The exact date of this expansion has not yet been determined. Please visit http://www.FastFingerprints.com to stay updated with information on the openings.
In addition to expanding in Arizona, FastFingerprints is also expanding its Florida offerings out of the Columbus, OH office. FastFingerprints will soon be able to accept fingerprint cards from out-of-state individuals wishing to submit cards for background checks in the state of Florida. Currently, the only out-of-state option FastFingerprints offers for Florida background checks, is Level 2 live scan fingerprinting (sent electronically to FDLE) from the Columbus, Beachwood, and Westlake, Ohio offices. The new fingerprint card submission process will allow individuals not living in Florida to mail their fingerprint cards to FastFingerprints, and have their fingerprints cards scanned and sent electronically to FDLE. Although an exact date for the release of this process has not yet been determined, the expected launch date is the second quarter of 2014. Please visit http://www.FastFingerprintsFlorida.com to obtain up-to-date information on the launch date, and on our additional Florida services.
About FastFingerprints
FastFingerprints, a division of National Background Check, Inc., has been a leader in the services, technology, and equipment required to process state and FBI background checks via electronic fingerprinting for over 14 years. In addition to 16 locations here is Ohio and 22 in Florida, FastFingerprints' parent company (NBCI), is one of the few companies in the nation to be recognized by the FBI as an approved FBI Channeling Agency that processes FBI requests for federally legislated purposes. More information on acquiring an FBI criminal history check for federal reasons, not for Ohio state legislative reasons, can be found at http://www.NationalBackgroundCheck.com under FBI Channeling tab. FastFingerprints (Ohio) welcomes walk-ins, and is available for mobile screening appointments. To find a location near you, or to set up a mobile appointment, please visit http://www.FastFingerprints.com or call 1.877.932.2435.