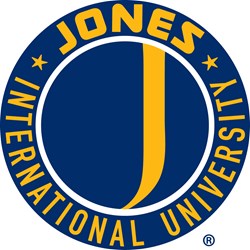 Denver, Colo. (PRWEB) January 21, 2014
Jones International University® (JIU®) is pleased to announce that Lisa R. Braverman, Ph.D. has been appointed as the University's Chief Academic Officer. In this role, Dr. Braverman will be responsible for leading and managing the entire range of academic activities for JIU including oversight of the University's curriculum, instruction, assessment of student learning, service and compliance to ensure teaching excellence and fulfillment of the University's vision and mission.
"The role of Chief Academic Officer is crucial to the continued growth and success of our university," stated University Chancellor Milton Goldberg. "I am excited to work with Dr. Braverman as we expand our academic breadth and depth to bring JIU to the leading edge of the online education world."
Dr. Braverman is one of the foremost leaders and innovators in the field of adult, professional and online education. She has served as associate provost and dean of continuing and professional education at major colleges and universities in and around the New York metropolitan region, including Long Island University, New York Institute of Technology and Pratt Institute. Throughout her career, she has provided pioneering leadership and successful growth strategies in distance, continuing and international education and strategic community/corporate partnerships.
Dr. Braverman has held top leadership posts in professional adult, online and CE associations and is certified in distance education by the WICHE Cooperative for Educational Technologies. She is also a consultant and published author, with two journal articles on corporate education in JCHE and a chapter on the future of continuing higher education in a recent publication by Jossey Bass.
"I am excited to be joining the team of one of the nation's original pioneers in online learning," stated Dr. Braverman. "I look forward to working with my colleagues to forge new pathways in the delivery of quality online education and access for students worldwide."
Dr. Braverman holds a Ph.D. from New York University and is regularly invited to speak on topics such as innovation and entrepreneurship in higher education, corporate outreach, higher education leadership, executive education, strategic partnerships, international education and other topics essential to the field of continuing higher education.
# # #
About Jones International University®, Ltd. (JIU®)
As the pioneer in online education, Jones International University offers an unparalleled online educational experience that provides essential tools and strategies for career starters, career changers, and career advancers around the globe. It offers an array of online undergraduate, graduate, and doctoral degrees and professional certificate programs in the fields of business administration, education, and business communication. JIU was the first entirely virtual university in the U.S. to be granted regional accreditation and continues to make its mark as the Gold Standard Online University®.