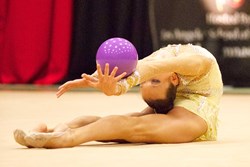 The Annual L.A. Lights Tournament of Champions has become one of the biggest rhythmic gymnastics event in the world.
Los Angeles, CA (PRWEB) January 22, 2014
The world may be gearing up for the Sochi 2014 Winter Olympics, but it is the Los Angeles School of Gymnastics(LASG) heating up with World and Olympic Champions from all over the globe to compete in what has become one of the largest multi-level rhythmic gymnastics competitions in the world, The L.A. Lights Tournament of Champions.
Just like the Olympic Games, this event is drawing the best female athletes from the US and around the world, including medalists from previous World and Olympic Games scheduled to compete. L.A. Lights takes place January 23-26 at Veterans Memorial Auditorium in Culver City, CA.
Headed by Executive Director of LASG, Alla Svirsky, the nation's unparalleled leader in the gymnastics industry. Svirsky, a Gymnastics Hall of Fame member, three-time Olympic coach and seven time winner of USA Gymnastics Coach of the Year, has been working alongside Tanya Berenson, LASG General Manager and L.A. Lights Meet Manager, to make sure the 2014 L.A. Lights competition truly highlight the world's best gymnasts.
Last week, Russia confirmed they will be sending two teams to compete in this visually stunning sport. Not to be outdone, the Ukranian Team upped the ante by adding Ganna Rizatdinova, the 2013 World All-Around Silver Medalist, to their team.
Hours after Russia confirmed, the Israeli Maccabi Federation announced they will be competing bringing Sheli Sapir and Stefani Ivanzov to the tournament. The last time Israel participated in L.A. Lights was 2001, so expect to see many Israeli flags waving in the crowd by fans supporting their team.
The toughest team to beat is, Team Belarus, the 2013 European Bronze Medal Champions. Made up entirely of Level 10 competitors, leading the team is Melitina Staniouta (who competed in the 2012 Summer Olympic Games and ranks #6 on the 2011 World Champion List) and Arina Charopa silver medal at the 2010 Youth Olympic Games.
One of the most anticipated L.A. Lights gymnasts is America's own Heather Chan, a student at LASG and a member of the United States national team. Chan, a first-time Senior Level 10 competitor, is slated to take a position on the USA National Team. She will be up against L.A. native and U.S. National Team Member, Aliya Protto. Both women will be competing for the chance to win and also to establish placement domestically and globally to help pave the way for a spot on Rio 2016 Rhythmic Gymnastics Team.
"It is official, we have raised the bar this year and the Annual L.A. Lights Tournament of Champions has become one of the biggest rhythmic gymnastics event in the world." states Berenson "With the last minute additions of the Russian competitors, it's really now an all out re-match of the 2012 Summer Olympics and is anyone's game."
Teams scheduled to compete in the L.A. Lights Tournament of Rhythmic Gymnastics Champions: USA National Team, Sweden National Team, Ukraine National Team, Russia National Team, Belarus National Team, Italy National Team, Israel Maccabi Team, Puerto Rico National Team, Canada National Team, Australia National Team and New Zealand National Team.
For more information, visit the official website of the LA Lights Tournament http://www.lalightsmeet.com. For tickets to the LA Lights Tournament of Champions that will be on January 23-26, 2013 please contact LASG directly at (310) 204-1980.
All Media Inquiries should be directed to:
Deirdre Lopian
Director of Public Relations
Office:(732) 577-8287
Cell: (609) 553-4023
Deirdre.Lopian(at)gmail(dot)com
About Los Angeles School of Gymnastics (LASG)
LASG, an Olympic-quality training center, is a nonprofit corporation that is considered among the top training facilities in the county. Led by three-time Olympic coach Alla Svirsky, LASG has provided thousands of young athletes with quality gymnastics instruction and has produced several Olympians and Internationally ranked athletes. For more information, please visit http://www.LAGymnastics.com.
About 2014 LA Lights Rhythmic Gymnastics Invitational
LA Lights is one of the largest rhythmic gymnastics events in the nation. The tournament hosts hundreds of the world's most diverse and competitive athletes in rhythmic gymnastics, including world champions from Russia, Ukraine, Belarus, USA and many more. Visit http://www.LALightsMeet.com for more information.