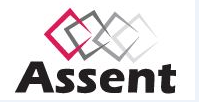 "Assent Compliance is the preferred partner of CSA Group and Autodesk for materials compliance software and also works with all major accounting/audit and law firms. Having experience in manufacturing, retail, aerospace, defense." - Matt Whitteker_Assent
(PRWEB) January 22, 2014
Assent Compliance, who currently works with 25% of Fortune 500 companies in scope of conflict mineral compliance under Dodd Frank and over 55 000 supplier companies is hosting a free webinar on conflict mineral compliance in 2014.
Assent Presents Conflict Mineral Fast Track to May 2014
https://assentcompliance.com/webinar.asp
This presentation will cover the following topics:
Yard sticks for 2014 – what are other companies doing and where are they in the compliance process?
Best Practices from 2013
Potential impact of NAM's court appeal
Over Scoping – pitfalls to avoid with your program
Standard Customer response strategies
How do I do a Pass/Fail Analysis?
How should I audit supplier submissions?
Using checks and balances to analyze supplier data
A look at Form SD
Question & Answer
Assent Compliance is the preferred partner of CSA Group and Autodesk for materials compliance software and also works with all major accounting/audit and law firms. Having experience in manufacturing, retail, aerospace, defense, electronics and pharmaceuticals, Assent is able to leverage economies of scale and help clients reach compliance faster and at a much more affordable price than almost any other compliance provider. Assent has been rated the best compliance software suite by global software firms, test labs, law firms, accounting firms and 25% of Fortune 500 firms in scope.
"Assent is proud to be able to say that our software and service package are best in class. We'd happily compete against any software/service provider in the world. After clients have compared solutions, price, features and expertise Assent is almost always the unanimous choice for compliance software/service provider. Some firms have recently touted they work with 11 000 supplier companies. Since Assent offers free supplier portals to its client Assent works with over 55 000 firms an adoption rate 5x higher than some competitors," says Matt Whitteker Assent's marketing director.
Conflict mineral software is just one of Assent's compliance modules, of which there are over 30. To see a full system demo and learn about conflict mineral requirements in 2014 join Assent Compliance and over 300 firms already registered on Tues, Feb 4th .