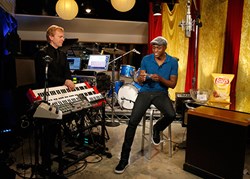 (PRWEB) January 22, 2014
Back by popular demand, the Lay's "Do Us A Flavor" contest has returned, inviting fans nationwide to submit their ideas for the next great potato chip flavor for the chance to win a $1 million grand prize. This year's contest offers fans even more opportunities to demonstrate their passion and creativity for potato chip flavor: fans can now choose from three potato chip forms – Lay's Original, Lay's Kettle Cooked and/or Lay's Wavy – and a fourth finalist flavor will be created and brought to store shelves. Submissions are now open at http://www.dousaflavor.com.
To celebrate fans' flavor ideas, the Lay's brand also partnered with Emmy Award-winning entertainer Wayne Brady, one of the most versatile performers in show business today, to create real-time, personalized content, comedic sketches and musical videos based on fan submissions.
Lay's first introduced the "Do Us A Flavor" contest in the U.S. in July 2012 and nearly four million flavor ideas poured in from every corner of the country. The contest quickly became a pop-culture phenomenon. From bacon to apple and cheese, it was clear that the Lay's brand had only begun to scratch the surface of the flavor possibilities that could be brought to the snack aisle. Lay's Cheesy Garlic Bread, Lay's Chicken and Waffles and Lay's Sriracha flavored potato chips were selected as finalists, created and brought to store shelves. After millions of fan votes, Lay's Cheesy Garlic Bread flavored chips was named the winner and the finalist behind the flavor, Karen Weber-Mendham, a children's librarian from Land O' Lakes, Wisconsin, took home a sweet $1 million grand prize. Now, it's time to see who will have the next winning flavor idea?
For more information, downloadable images, videos and to watch behind-the-scenes of Wayne Brady's comedic sketches, go to:
http://magicbulletmedia.com/MNR/LaysFlavorContest/