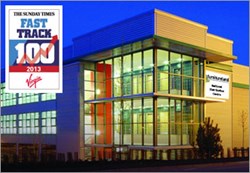 Oak Furniture Land now has 50 stores in retail parks across the UK and employs over 700 people. Its headquarters in Swindon includes a 300,000 square feet state-of-the-art distribution centre.
Swindon, UK (PRWEB UK) 22 January 2014
Independent retailer of solid hardwood furniture, Oak Furniture Land, has invested in two senior recruits in customer service and retail, as part of its continued growth strategy this year.
Sara Bird joins the company in a newly created Service Director role after previously holding director positions in retail operations at Steinhoff (owner of Bensons for Beds, Harvey's and Cargo), Boots, Specsavers and B&Q. Paul Burgham has been promoted to Director of Retail Operations, having overseen the growth of the retail operations from 12 stores to 50, since joining the company 18 months ago.
Sara's primary focus will be to streamline and strengthen the customer journey, identifying new efficiencies and processes that are also cost effective for the business. She will work across all customer facing departments, from the delivery drivers right through to the on and offline customer service and sales teams. Central to her role is also direction of the customer service team which has grown four-fold in the past two years to over 50 people.
Sara says, "I came into the business with a 100 day plan in mind. At the heart of this plan is the development of a sustainability platform for the business, focused around engagement and transparency. The company is now maturing as we reach a certain size and my job is to communicate our longevity and commitment to our staff and customers alike."
Since Paul joined Oak Furniture Land, the retail estate has quadrupled in size, with over 300 staff now employed across the retail network alone. At joining, Paul built on the original retail network, creating a scalable infrastructure that could flex as the company grows. This included investing in field management with regional responsibilities and recruiting capable line management across all support functions for an expanding retail operation.
In 2013 Oak Furniture Land opened a store a month in line with plans outlined at the beginning of the year. The offline retail part of the business has grown from 36 to 50 stores this year, without taking focus away from achieving sales targets. In 2014, Paul and his team will be growing the retail network at the same pace, focusing on marquee locations for stores in major UK towns and cities.
Paul comments: "My job now is to focus on further developing the retail infrastructure as the business moves to the next level in terms of size, performance and capabilities.
"We still have ambitious plans for further growth but with more of a strategic focus on securing prime locations for new stores and reviewing the stores that are now approaching anniversaries, to make sure they are meeting performance expectations."
In his role, Paul oversees visual merchandising and support; training and development for the staff employed in the network; compliance and procedure across the network and bring new stores to market.
Oak Furniture Land reported record sales of £85m in January 2013, which represented a 140% increase in turnover (up from £34.1m) and a pre-tax profit up from £3.9m to £9.2m. The company has also added investment in additional warehouse facilities and infrastructure, including a 300,000 sq ft state-of-the-art distribution centre at new headquarters in Swindon, which opened in May last year.
Ends
For more information on Oak Furniture Land contact Lisa Boustead on 0845 0945 468 or lisa.boustead(at)freshcommunication(dot)co(dot)uk http://www.oakfurnitureland.co.uk/.
Notes to editors
About Oak Furniture Land
Oak Furniture Land is the UK's largest retailer of solid hardwood furniture, selling high quality oak, mango and mahogany furniture. The company started trading on eBay in 2003 and became eBay's largest retailer in 2006. The company launched stand-alone site http://www.oakfurnitureland.co.uk and in 2010 opened its first store in Cheltenham. Oak Furniture Land now has 50 stores in retail parks across the UK and employs over 700 people. Its headquarters in Swindon includes a 300,000 square feet state-of-the-art distribution centre.
Oak Furniture Land was recognised in 2010, 2011 and 2013 in The Sunday Times Fast Track 100.