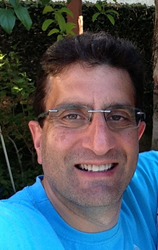 As a teacher, and as an owner of a busy family dental practice, I feel it is my duty to stay informed and be aware of the latest developments in dental medicine
(PRWEB) January 24, 2014
Tariq Drabu, dentist and highly respected owner of the Langley Dental Practice in Middleton, Manchester, was speaking recently about a brand new treatment that is currently being tested in the University of Liverpool. He is a well-known practising dentist, and a gifted mentor and teacher of postgraduate students. In addition he is the Clinical Lead Dentist for the Oral Surgery Clinical Assessment and treatment Services for NHS Heywood Middleton and Rochdale.
Tariq Drabu, as a leading dentist, understands the importance of research and development in dental medicine. He was speaking to us recently in reference to an article published by the Dental Tribune website. The article, which can be read here, reports on a brand new treatment which is currently being tested. This treatment if successful, could provide an alternative to traditional root canal treatments.
Tariq Drabu, the renowned dentist said, "The researchers from the University of Liverpool are currently testing this new procedure. They are testing a new way of treating infected pulp. The report indicates that revascularisation could possibly be performed in just two visits. This is an outstanding potential development. Many patients have to undergo long and uncomfortable root canal treatments in order to achieve success."
Tariq Drabu, leading dentist, was speaking from his practice in Manchester where he took some time to talk to us. He said, "I am looking forward to reading the results of this new research. It seems that if these tests are successful, we could have an excellent alternative to root canal therapy. At the moment it can involve a number of treatments and many patients have to endure some discomfort and some pain. It will be a huge achievement if the work researchers are undertaking results in this new treatment. I welcome a treatment that reduces the time it takes to address root canal problems, and which makes the treatment easier for our patients."
For over 25 years, Tariq Drabu has been a dentist, running his family practice in Middleton, and teaching and mentoring students of dental medicine. He is dedicated to the advancement of dental medicine in Britain, and always keeps a close eye on new developments. He explained, "As a teacher, and as an owner of a busy family dental practice, I feel it is my duty to stay informed and be aware of the latest developments in dental medicine. By doing this I can share my knowledge with my students, and I can ensure that the high quality levels of care delivered by my own practice are maintained."
He closed by saying, "I look forward to seeing the completed results of this important work. The study has already revealed that the new treatment works well and is successful in treating root canal problems. I am sure the results from a test being currently done of 15 control group patients will prove positive too. I wish the team at the University of Liverpool all the best with their work. My colleagues, students, and I, will be reading updates on this new treatment with interest."
About Dr Tariq Drabu
Dr Tariq Drabu is a highly experienced and well known Manchester dentist and GDC registrant. He is accredited as a Specialist in Oral Surgery by the General Dental Council. Dr Tariq Drabu practices at his Langley Dental Practice in Manchester. Dr Drabu is a leading name in dentistry, with more than 25 years' experience in both general practice and hospital dentistry. Dr Tariq Drabu is also the Clinical Lead Dentist for the Oral Surgery Clinical Assessment and Treatment Services at NHS Heywood, Middleton and Rochdale. He is a specialist staff member at The UCLan Dental Clinic in Preston.