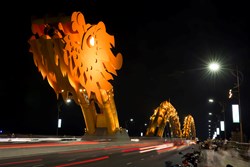 By combining the firms' expertise and ingenuity, we were able to deliver a project that has become an icon to the community in Da Nang.
Morristown, NJ (PRWEB) January 23, 2014
Louis Berger and Ammann & Whitney recently won a Diamond Award in the category of structural systems from the American Council of Engineering Companies (ACEC) New York for the Dragon Bridge in Da Nang, Vietnam. The Diamond Award is the highest honor given for projects outside the state of New York.
The client, the Da Nang People's Committee, selected Louis Berger and Ammann & Whitney to design the bridge after an international design competition. The firms proposed a low-deck bridge with an at-grade western approach to preserve scenic views of the river and the city. The bridge's single-arch support system is modeled after a dragon flying across the Han River. The 666-meter bridge opened on March 29, 2013 and draws hundreds of locals and visitors to its fire- and water-breathing shows on weekends.
"This award is a testament to the teamwork and collaboration between Louis Berger and Ammann & Whitney," said Chris Gagnon, Ammann & Whitney's senior vice president for transportation. "By combining the firms' expertise and ingenuity, we were able to deliver an award-winning project that has become an icon to the community in Da Nang."
The Engineering Excellence Awards celebrate the most outstanding project achievements in the field of engineering around the world. Projects are judged based on originality, innovation, value to the public and the engineering profession, complexity, social and economic considerations, sustainability, and exceeding client needs.
About Louis Berger
Louis Berger is an internationally recognized consulting firm that provides engineering, architecture, program and construction management, environmental planning and science and economic development services. We are a trusted partner to national, state and local government agencies; multilateral institutions and commercial industry. To this diverse client base, we bring strategic vision and an entrepreneurial spirit, developing innovative solutions to some of the world's most challenging problems. With a resource base of more than 6,000 professionals and affiliate employees in more than 50 countries, we are able to respond to local conditions while providing clients with the technical resources and rapid response capabilities of a leading global organization.
About Ammann & Whitney
Ammann & Whitney Consulting Engineers, PC is a structural engineering, architecture and construction services firm serving public and private sector clients worldwide. Founded in New York City in 1946, the firm has received hundreds of awards for engineering and design excellence, and has been consistently recognized for technical innovation, integrity and achievement, with an unwavering commitment to client satisfaction. Ammann & Whitney is privileged to have been associated with the design and upgrade of many of our nation's most notable landmarks, including the Verrazano Narrows, George Washington, Triborough and Golden Gate Bridges; Statue of Liberty; U.S. Capitol Building; Lincoln Center; Washington, D.C. Metro; and Washington Dulles and JFK International Airports.