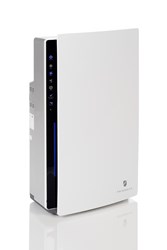 Breathe smarter with a five-stage filtration system that automatically adjusts its cleaning levels to detect pollutant changes.
San Antonio, Texas (PRWEB) February 10, 2014
Friedrich Air Conditioning has entered the consumer air purifier market with the launch of its AP260 air purifier featuring five-stage filtration, which lets consumers see the air they breath via unique LED display.
With its revolutionary filtration process, the AP260 automatically adjusts its cleaning level as it senses changes in air quality, indicating air quality status through changing colors that correspond with air quality levels.
"We felt National Care About Your Indoor Air Month was a great time to kick off the launch of our advanced AP260 air purifier," said Holly Beck, Friedrich product manager. "It will let you breathe smarter with a five-state filtration system that automatically adjusts its cleaning levels to detect pollutant changes, including steam, dust and tobacco smoke."
The AP260 is now available at Amazon.com and select retailers. Friedrich will showcase this new product at the International Home + Housewares Show in Chicago on March 15-18 in addition to the National Hardware Show in Las Vegas on May 6-8.
Friedrich is also shipping a limited number of units free of charge to media outlets interested in reviewing the product. Please see the media contact for more information.
The AP260 features:
Superior five-stage Filtration – Superior filtration combines a pre-filter, multi-filter, HEPA filter, carbon filter and plasma generator to effectively filter dust, pollen, mold spores, pet dander and tobacco smoke for spaces up to 260 square feet.
Intuitive Intelligent Operation – The unique Air Quality Sensor always lets you know the status of your air quality by detecting increased levels of pollution and changing led color display based on the current level of impurities in your air.
Intelligent Auto Operation constantly samples the air quality and automatically adjusts the fan speed based on your environment. Intuitive nighttime operation dims the lighting and operates at an ultra-quiet setting, allowing for maximum comfort and clean air while you sleep.
Greater Filter Surface Area – The AP260 has over 4,700 square inches of filter media surface area. That's four times more filter area than a popular brand in the same category.
Sleek Contemporary Design – With a sleek design that complements any room or décor the AP260 does not require hiding like many air purifiers. The AP260 is light in hand and has an easy-carry handle making it easy to move around.
Visit friedrich.com to learn more about Friedrich's revolutionary HVAC products.