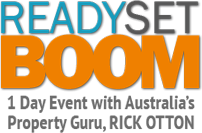 While the capital's growth is typically credited to inner city areas, the great news for potential buyers and real estate investors in Sydney's west is that bargain properties can be found at any time regardless of the interest rate environment
(PRWEB) January 28, 2014
Creative real estate advocate, Rick Otton, has announced that now is a peak time to jump in and harness the advantage of property investing in parts of Australia that are booming. Mr. Otton will guide seasoned and aspiring investors from Sydney's west through the critical process of leveraging current boom conditions – as well as sluggish times – at a special one-day event in Parramatta on 16 February.
The one-day highly-experiential no-charge Ready Set BOOM event is part of a nationwide tour to be held by the property millionaire in coming months.
"About 20 years ago, I discovered a remarkable property investment system that allowed me to purchase 76 properties in 12 months without bank finance and in a falling market," Mr. Otton said.
"Since then my students and I have used this technique to profit throughout rising, falling and booming markets. While investing in property is a no-brainer at the moment, what if I told you that no matter whether the market booms or not, you can still make a lot of money through property with any house, without the risk of using a lot of your own cash?"
Parramatta real estate event
Mr. Otton's creative real estate event in Parramatta is timely given recent data revealing Sydney house prices jumped by more than 15 per cent in 2013. Unit prices were also in demand, with growth up by 11.6 per cent.
According to figures from RP Data, the city's median house price is now $775,000 and median unit price is $557,000.
"While the capital's growth is typically credited to inner city areas, the great news for potential buyers and real estate investors in Sydney's west is that bargain properties can be found at any time regardless of the interest rate environment," Mr. Otton said.
"With the right toolkit of strategies, anyone can learn to build buyer confidence in any market. They can avoid falling into financial risk through excessive bank debt and gain control of their financial futures with a lucrative property portfolio and positive cash flow from day one. In effect, they can start living the life of their dreams."
Rick Otton runs one of the oldest property training companies in the country. He is a highly successful real estate entrepreneur, author and education mentor.
To register for one of Mr. Otton's free Australian one day seminars or to book into the Paramatta event visit http://www.readysetboom.com.au or phone, in Australia, 1300 888 450.
About Rick Otton
For over 23 years property millionaire Rick Otton has built an impressive real estate portfolio using innovative strategies that he has developed – strategies in which transactions are made without the need for traditional bank-type loans. He constantly refines his techniques as he buys and sells properties through his We Buy Houses business which operates in Australia, New Zealand and the UK.
A gifted speaker and educator, Mr. Otton conducts regular one-day free seminars across Australia, which build on the the concepts he shares in his 2012 book 'How To Buy A House For A Dollar', voted by Money Magazine and Dymocks Book stores as one of the Top 10 Most Popular Finance Titles for 2013.
He regularly records and publishes iTunes podcasts via his channel Creative Real Estate.
His innovative low-risk, high-reward approach to Australian real estate investing has been featured in a variety of television programs and magazines, including Today Tonight, Hot Property and Australian Property Investor.
To register for one of Mr. Otton's free Australian one day seminars visit http://www.readysetboom.com.au or phone, in Australia, 1300 888 450.