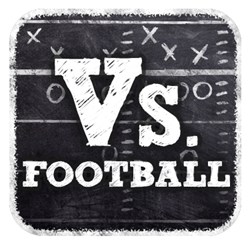 We are excited about the changes that we rolled out this week and will be adding new features to the game throughout the next few months."
Kansas City, Mo. (PRWEB) January 23, 2014
With the biggest game of the year just around the corner, football frenzy has taken over. Channel that football fever by playing the game on your mobile device right at your fingertips.
Vs. Football – a free mobile app launched during the heart of football season last October – takes the play-by-play action to the next level with a new release. This turn-based football game app, which currently boasts players from more than 50 countries running hundreds of thousands of plays, pairs gridiron strategy with mobile gaming, allowing users to get their football fix at any time of the day or night.
Available for both Android and iOS/iPhone/iPad, Vs. Football's new version offers improved chat function and features a new invitation process, allowing users to connect via text message, e-mail and Facebook to invite friends to play the game.
Another new bonus? Football fanatics can now challenge random opponents to a game of Vs. Football, providing endless possibilities to test their play-calling skills.
"The response to the game has been fantastic," said Matthew Barksdale, co-founder of Vs. Football and president of Kansas City, Mo.-based Engage Mobile Solutions (http://www.EngageMobile.com). "We have been listening to our users and getting feedback since we launched Vs. Football 90 days ago. We are excited about the changes that we rolled out this week and will be adding new features to the game throughout the next few months."
Watch for more features to be added monthly including varied play options, more animations and additional key features.
As part of updating and expanding the Vs. Football brand, the development team is proud to announce that Kirsten Samuelson is joining the Vs. Football team to drive PR, social media and client interaction. Kirsten graduates from Kansas State University in May 2014 with a degree in public relations.
"I am thrilled to be a part of this exciting game and work with such a passionate, football-loving team," Samuelson said. "Stay tuned because there are a lot of fun things to come for Vs. Football fans."
Ready to play?
Download the Vs. Football App on iTunes for iOS/iPhone/iPad:
https://itunes.apple.com/us/app/vs-football/id700513212?ls
Download the Vs. Football App on Google Play for Android:
http://play.google.com/store/apps/details?id=com.engagemobile.vsfootball
Check out the website at http://www.PlayVsFootball.com.
Vs. Football is a turn-based mobile football game developed by Engage Mobile Solutions and available for free on Google Play for Android devices and the Apple iTunes App Store for iPhones and iPads. The game is like Words with Friends and other turn-based games but focuses on football strategy that lets players make the call. For more information about Vs. Football, visit http://www.PlayVsFootball.com or contact Kirsten Samuelson at ksamuelson(at)playvsfootball(dot)com.
###
About Engage Mobile Solutions
Engage Mobile Solutions is an award-winning mobile app and mobile software development company with a focus on mobile strategy and mobile marketing. Based in Kansas City, Mo., the firm helps companies leverage mobile technology and marketing to drive profitability through increasing revenue, decreasing costs and managing risk. For more information about Engage Mobile Solutions, visit http://www.engagemobile.com or contact Matthew Barksdale at mbarksdale(at)engagemobile(dot)com.