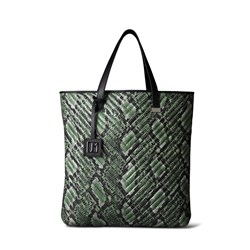 SAN FRANCISCO (PRWEB) January 23, 2014
Jill Milan®, a provider of designer Italian handbags, today announced it will award a Newport Quilted Tote with green snakeskin pattern to the 100th person to register for its mailing list. Registration is available in the footer of any page on the Jill Milan website.
The Newport Quilted Tote is an unstructured tote with quilting that gives it a modern, sleek appearance. Handmade palladium hardware provides a distinctive appearance to this lovely unstructured tote. One interior zipped pocket and two additional zipped pockets hold mobile devices and keys.
The Jill Milan collection of luxury handbags is entirely made in Italy, by Italian artisans using Italian materials. Features include hand stitching and metalwork handmade by craftsmen who create jewelry for Europe's leading luxury brands. All Jill Milan products are free of animal-based materials such as leather, fur and wool, and Jill Milan was named 2013's Vegan Business of the Year by Vegans are Cool.
Jill Milan handbags have become a favorite of celebrities for red carpet events. Actress Laura Dern carried the New Canaan Clutch to the recent Screen Actors Guild Awards and Rashida Jones carried the Holland Park Clutch to the Golden Globes. Actress Amy Poehler carried Jill Milan to the Emmy Awards in September, and other celebrities carrying Jill Milan on the red carpet include two of 2013's Academy Award recipients, Anne Hathaway and Jennifer Lawrence.
Jill Milan handbags have drawn increased attention from influential fashion media. W Magazine included the brand's new Octagon Clutch in the October issue's "Most Wanted" feature, and a recent Vogue.com feature on actress Kerry Washington's Emmy prep referenced Jill Milan among the mix of clutches the "Scandal" star chose from for the awards show. Bag Snob covered the Art Deco Clutch in a recent feature, and The Zoe Report recognized the Newbury Street Portfolio for its ability "to go from the office to cocktail hour."
About Jill Milan
Jill Milan is a provider of luxury Italian handbags and fashion accessories. Made of exquisite materials, Jill Milan products are crafted in Italy by artisans who have created handbags and accessories for some of Europe's best known fashion houses. All Jill Milan products are free of animal-derived materials, and the company contributes to animal-welfare organizations. Jill Milan is the only luxury handbag line entirely free of animal-derived materials which regularly appears on Hollywood's red carpets. Visit Jill Milan on the Web and follow Jill Milan on Facebook.
Jill Milan and the Jill Milan logo are registered trademarks of Jill Milan LLC, and are protected by trademark laws of the United States and other countries. Emmy is a trademark of the Academy of Television Arts & Sciences and the National Academy of Television Arts & Sciences. Academy Award is a registered trademark of the Academy of Motion Picture Arts and Sciences. All other product and company names are trademarks or registered trademarks of their respective companies.