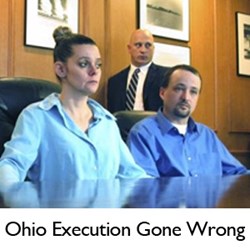 Mr. Schulte said they will focus on determining where the lethal medications came from and whether or not the manufacturers were aware that they were being used in executions.
Columbus, OH (PRWEB) January 27, 2014
Richard W. Schulte, a partner with the law firm of Wright & Schulte LLC, an Ohio personal injury firm, is serving on the legal team investigating an allegedly botched execution that was conducted at the Southern Ohio Correctional facility in Lucasville on January 16, 2014. The Firm reports that Mr. Schulte recently appeared at a news conference with the family of Dennis McGuire, an Ohio death row inmate (case no. 2:11-cv-01016-GLF-MRA) who appeared to suffer from prolonged distress when he was executed by the State using an untested combination of drugs. According to a report from The Guardian, Mr. McGuire's family accused the State of Ohio of violating the U.S. Constitution through the infliction of cruel and unusual punishment. (Case No. 2:14-cv-00093)
[theguardian.com/world/2014/jan/17/dennis-mcguire-ohio-execution-untested-method-lawsuit, The Guardian, January 17, 2014]
According to The Guardian, Mr. McGuire had been convicted of the 1989 rape and murder of 22-year-old Joy Stewart. Ms. Stewart was newly-married and 30-weeks pregnant at the time of the crime, and her unborn child also died. According to a report from the Associated Press, the execution was carried out using the sedative midazolam and the painkiller hydromorphone, a combination of drugs never before used for executions in the U.S. Those medications were chosen because the manufacturer of the drug previously used had declared it off-limits for such purposes, causing Ohio's supply to run out.
[bigstory.ap.org/article/ohio-killer-close-execution-untried-method, Associated Press, January 17, 2014]
The Guardian reported that during their January 17th news conference, members of Mr. McGuire's family said his death lasted for over 20 minutes. They described how he convulsed and gasped for breath for roughly 10 minutes after he appeared to lose consciousness. According to the family's attorneys, the State of Ohio had decided to use the untested drug combo even after an anesthesiologist testified that doing so would cause prolonged suffering such as what was allegedly experienced by Mr. McGuire.
During the news conference, Mr. Schulte said that he and his co-counsels would focus their investigation on determining where the medications used to carry out the death sentence had originated, and whether or not the manufacturers were aware that they were being used in executions. According to a report from WHIO-TV, the McGuire family will also seek an injunction to stop the State of Ohio from using the drug combo, and well as an injunction against any further executions by the state.
[whio.com/news/news/mcguire-execution-prompts-dayton-attorney-seek-inj/ncrmH/, WHIO-TV, January 17, 2014]
About Wright & Schulte LLC
Wright & Schulte LLC, an experienced personal injury firm, is dedicated to the belief that America's legal system should work for the people. Every day, the attorneys of Wright & Schulte LLC stand up for the rights of people who have been injured or wronged and fight tirelessly to ensure that even the world's most powerful corporations take responsibility for their actions. If you're looking for a law firm that will guarantee the aggressive and personal representation you deserve, please do not hesitate to contact Wright & Schulte LLC today. Free legal evaluations are available through yourlegalhelp.com or by calling 1-800-399-0795.
Visit our website for all the current news on this and other legal matters around the country.
Contact:
Wright & Schulte LLC
1-800-399-0795
http://www.yourlegalhelp.com