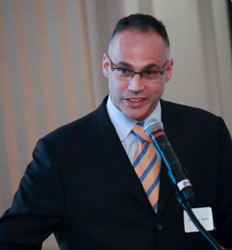 Overland Park, Kansas (PRWEB) January 28, 2014
Antonio J. Soave, the Chairman and CEO of Capistrano Global Advisory Services ("CGA, Inc.") in Overland Park, Kansas, recently accepted an invitation to join the International Advisory Council of the United States Institute of Peace ("USIP"). USIP is an independent, nonpartisan institution established and funded by Congress to increase the nation's capacity to manage international conflict without violence. Located across the street from the United States Department of State in Washington, D.C., USIP is considered a catalyst for empowering others to prevent, manage and resolve international conflict without resorting to violence. USIP also leverages resources and skills for peace building.
In his capacity as the CEO of CGA, Inc., Mr. Soave has assisted myriad companies to expand and grow their operations abroad, establish joint ventures and conduct strategic alliances on a global scale. He has done so in a number of business sectors including, but not limited to, the following: infrastructure, rail, construction, oil & gas, automotive, agriculture, biotech, healthcare and heavy manufacturing. Additionally, Mr. Soave is the outgoing Chairman of the International Business Council ("IBC"), a national non-profit that spreads a mission of "peace through commerce" while mentoring students at the University of Notre Dame, University of San Diego and Benedictine College (Atchison, Kansas). Mr. Soave is also a commentator, writer and advisor on a number of political, economic and international business matters.
Mr. Soave will serve on USIP's Advisory Council in a voluntary capacity. Mr. Soave has a B.A. from the American University in Washington, D.C., a Juris Doctor from Michigan State University, and a LLM (Master's of Law) in International Law from the University of San Diego.
For more information visit the following websites: http://www.CapistranoGlobal.com.