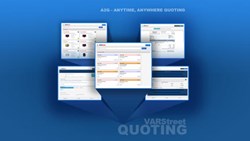 "A2Q a BIG step towards providing more value to our customers out of VARStreet. We have seen a lot of demand for this from our current customers as well as new prospects and I am sure this will boost ourbusiness tremendously." -Shiv Agarwal, V.P. Sales
Boston, MA (PRWEB) January 25, 2014
VARStreet Inc., the leading provider of integrated Sales Quoting and e-Commerce software for IT and Office products VARs, today added another milestone with launch of A2Q – Anytime, Anywhere quoting, a Mobile Quoting App for android and IOS. VARStreet is committed to making it easier and more profitable for VAR's, MSPs and IT software solution providers to sell and procure technology products and the Mobile Quoting App is another step in that direction.
With the introduction of A2Q, VARStreet customers can now create and send quotes anytime and anywhere from their smart phones and tablets (mobile devices). This app will ensure that the VAR reps can remain in business even when they are on the move. The A2Q application not only comes with the functionality of creating, sending and managing quotes but it also provides features like Order status check, browsing, searching and comparing products, checking price and inventory from multiple distributors on the go. Imagine a situation where a Sales person is at a customer location and the customer asks for a quote. With A2Q now the Sales person will not only be able to look at the real time price and availability for that product from multiple distributors but also quickly create and send the quote there and then. This will greatly enhance the customer experience, shorten the sales cycle and also increase the chance of a sale. A VAR can also manage their VARStreet licensing better by providing the desktop licenses to all inside sales rep and A2Q licensing to all outside sales reps. This will enable them to bring their entire sales organization into VARStreet without adding too much of licensing cost.
Shiv Agarwal, Vice President – Sales, VARStreet says, "A2Q a BIG step towards providing more value to our customers out of VARStreet. We have seen a lot of demand for this from our current customers as well as new prospects and I am sure this will boost our business tremendously."
About VARStreet
VARStreet is a premier provider of On Demand/Hosted B2B, B2G and B2C e-Commerce and Sales Quoting solution for IT and office supplies VARs, system integrators and various other technology solution providers. Since its market presence from 1999, VARStreet has successfully served more than 3000 resellers and 10,000+ VAR users.
VARStreet provides a complete hosted and customizable e-Solution with a holistic portfolio of automated modules which include sales quoting and ordering, purchasing/e-Procurement, aggregated and custom catalog, contract management, e-Marketing and a highly customizable and configurable e-Commerce storefront. It also integrates with numerous CRM, ERP, SRM, accounting and business systems and offers punch outs with known procurement systems. Its powerful aggregated catalog engine collates products from 16+ IT and office products distributors, adds rich product content from eTilize ensuring availability of accurate specifications, pricing and inventory. Real time XML integration is also available with top distributors.
To know more about VARStreet and its products, Visits us @ http://www.varstreetinc.com or mail us to sales(at)varstreet(dot)com or call at +1-781-262-0609.
You can also follow VARStreet at:
http://www.varstreet.com/facebook
http://www.varstreet.com/twitter
http://www.varstreet.com/youtube
http://www.varstreet.com/linkedin
http://www.varstreet.com/blogs