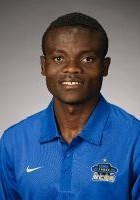 Just keep working hard, Fifi tells younger students.
Santa Barbara, CA (PRWEB) January 24, 2014
Dunn School, a private school for grades 6-12, announced that Kingsley "Fifi" Baiden, a former soccer standout at Dunn, was selected in the third round of the Major League Soccer draft by the Columbus Crew.
When he got the phone call on Monday from the Crew's head coach, and then from his agent, Fifi said, "I was so happy. I was just so happy to hear about it. I was like 'amen'."
Fifi entered Dunn as a sophomore in 2007, and quickly established himself as one of the Condor League's finest midfielders. Fifi was named the Earwigs' Most Valuable Player in 2008, 2009 and 2010, twice earned the Sportsmanship Award and earned the Most Inspirational Award three times.
"One of my best memories of playing soccer at Dunn was my senior year, when we traveled to Cate to play our last league game," Fifi recalled yesterday. "We had a meeting before the game and talked about how this team only had a few games left together. We were so motivated. We won something like 6-0."
Fifi graduated from Dunn in 2010, and accepted a soccer scholarship at the University of California at Santa Barbara. His Major League Soccer profile touts him as "a scrappy, quick, tough-as-nails defensive midfielder."
"Just keep working hard," Fifi tells younger students. "Keep fighting no matter what the outcome. That's my philosophy for life." It seems to be paying off.
Dunn is a college-prep private school for grades 6 – 12 located just 30 minutes north of Santa Barbara, California. On its idyllic 55-acre campus the school brings together 43 talented teachers who inspire students to become sharp thinkers, creative doers and confident leaders. As both a boarding and day school, Dunn forms a strong community – a small school where teachers become mentors and advocates. It all adds up to a spectacular environment in which students discover their passions, build unshakable confidence, and learn to make an impact in the world. For information, visit http://www.dunnschool.org.