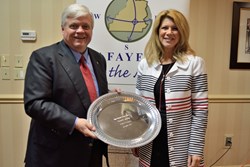 I may have been the spark, but the employees are the fire that have made Acadian what it is today.
(PRWEB) January 23, 2014
The Upper Lafayette Economic Development Foundation honored the Acadian Companies at their fourth annual Honoring Upper Lafayette Success Stories luncheon yesterday. The award was accepted by Richard Zuschlag, Acadian CEO and chairman.
The luncheon, moderated by Gregg Gothreaux of the Lafayette Economic Development Authority, celebrates active businesses who have contributed to the revitalization and development of Upper Lafayette. While Acadian has offices and facilities throughout the country and in Canada, the largest campus can be found on North University Avenue. This 52-acre campus houses several of Acadian's support departments and is the main headquarters for Acadian's Safety Management Systems and National EMS Academy divisions. Additionally, Acadian's Hopkins Street location—which has been utilized since the early '70s—houses their Acadian Monitoring Services division, fleet maintenance, and the dispatch center.
In his acceptance speech, Zuschlag shared stories of Acadian's early years and gave tips on the building blocks of success. He also stressed the role of Acadian's employees as the catalyst behind the company's growth: "There have been a lot of successes at Acadian, but I come back to the fact that what has made this company successful is the hard work, commitment, and loyalty of our employees. We have an exceptionally good staff. I may have been the spark, but the employees are the fire that have made Acadian what it is today."
Zuschlag stressed that one of his proudest achievements was transforming Acadian into an Employee Stock Ownership Plan (ESOP) company. "My parents always taught me to share. I'm very proud that all of Acadian's employees are also owners of our company. As a result, they are able to build a very substantial retirement account with both their 401-K contributions and the company stock they earn," he added.
"Lafayette is a wonderful city," he continued. "I can't think of a better place to raise a family or have a corporate office for a business. I'm proud to be part of the Lafayette community and I'm very grateful for this award."
Zuschlag came to Lafayette, La., from Pennsylvania in 1970 as a communications engineer for Westinghouse. In 1971, Lafayette funeral homes—which were traditional providers of ambulance service—left the field due to new federal regulations. Rather than leave his new home without proper emergency care, he co-founded Acadian Ambulance.
The past four decades have seen Acadian Ambulance expand to six different divisions under the Acadian name, and grow from a company with only eight medics to one with over 4,000 employees. Acadian now includes a diverse suite of services designed to offer the very best support and education in health, safety, and transportation. Acadian's six divisions are Acadian Ambulance Service, Acadian Monitoring Services, Air Med, Executive Aircraft Charter Service, National EMS Academy and Safety Management Systems.
###