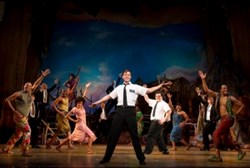 Tickets can be purchased for 20% off buy using promo code "wicked" at tickethunteronline.com
Los Angeles, CA (PRWEB) January 23, 2014
Book of Mormon Los Angeles at the Pantages Theater premiered this week. Ticket Hunter Online added extended its "gold star" promotion. The Los Angeles-based discount Broadway ticket seller announced 100 more tickets will be sold for $25. Kinky Boots the musical is set for release in 2015 at the Pantages and will be involved in similar incentives announced today.
After all promo tickets have sold remaining Pantages theater tickets will get a 20 % discount with check out code "wicked".
The Book of Mormon Pantages theater tickets have been selling in record fashion since their initial sale date just one month ago. Pantages theater Los Angeles box office announced they are completely sold out. The first showing is scheduled for January 21, 2014.
"Cheap Book of Mormon tickets are hard to come by. We sold out of our entire inventory faster than expected," stated Louis Silva director of Pantages theater sales.
The Book of Mormon Musical is a religious satire by South Park creator's Trey Parker, Robert Lopez, and Matt Stone. Robert Lopez is famous for co-writing Avenue Q. The show lampoons organized religion and traditional musical theater, reflecting the creators' lifelong fascination with Mormonism and musicals.
The Book of Mormon tells the story of two young Mormon missionaries sent to a remote village in northern Uganda, where a brutal warlord is threatening the local population.
Naive and optimistic, the two missionaries try to share the Book of Mormon, one of their scriptures—which only one of them knows very well—but have trouble connecting with the locals, who are more worried about war, famine, poverty, and AIDS than about religion.
Ticket Hunter Online specializes in discount Broadway tickets. They currently have over 300 tickets available for the Book of Mormon Pantages Theater and hundreds of tickets in inventory for the Book of Mormon on Broadway in New York.
Tickets can be purchased for 20% off buy using promo code "wicked" at tickethunteronline.com.
Discount Kinky Boots and Book of Mormon Tickets Pantages Theater