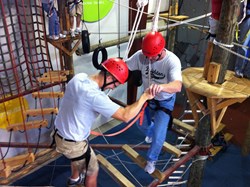 (PRWEB) January 24, 2014
Chad will use his extensive camp-related expertise and commitment to children and families to oversee the daily camp operations of the foremost agency in mid-Michigan for intervention and adventure camps.
Chad has worked in the camp industry for more than two decades and began his career as an Activity Specialist at Eagle Village.
For the last five years, Chad has been the director for Camp Living Waters in Luther, MI. During his tenure at Camp Living Waters Chad lead the revival of the 46 year old camp which was almost closed in 2008. Additionally, he and his wife Michella have been foster and adoptive parents and have spent considerable time advocating for children and healthy families.
"Chad has a passion for building up children and working with families needing help, a quality that is invaluable to the Eagle Village team," said Cathey Prudhomme, Eagle Village President and CEO. "With the addition of Chad to the Eagle Village leadership team we will continue to set the bar high for intervention and camp excellence."
A Homer, Michigan native, Chad attended Ferris State University and earned a BS in Recreation, Leadership and Management. "I am very excited to return to Eagle Village," said Mr. Saxton. "This organization has a very talented team with a proven devotion to children and families in Michigan and it is a place where I know I can make a difference in the lives of others. My priority is to support Eagle Village to the best of my ability so that we may further our goal on ensuring that at-risk children in Michigan receive the hope and direction they need."
Eagle Village is a non-profit family treatment center providing Intervention Services and Camps, Residential Treatment, Foster Care and Adoption services for all counties in Michigan. If you know of a family in crisis that may benefit from these programs contact Eagle Village at 231-832-2234.