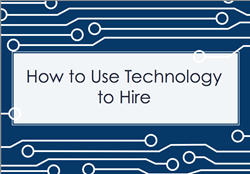 So by providing a recording of this webinar, we hope to give managers an alternate look at the technologies available that are both cost-effective and beneficial. -- Corey Fein, Account Manager, Hireology
Chicago, Ill (PRWEB) January 24, 2014
Hireology, the leading selection management platform for distributed enterprises, has made the recording of the "How to Use Technology to Hire" webinar available for viewing. Originally held on Thursday, January 23rd, the live recording includes the full webinar as well as a question and answer session.
Hosted by Hireology's franchise hiring expert Corey Fein, the webinar recording details the most beneficial and cost-effective technologies managers can use to streamline their hiring process. Specifically focusing on predictive technologies, social media recruiting, and the role of job boards, hiring managers of all backgrounds are encouraged to view the recording.
"There are countless tools on the market right now that supposedly help to make the hiring process more efficient," said Corey Fein, Account Manager, Hireology. "However, many of these tools charge an outrageous amount of money and provide minimal return. So by providing a recording of this webinar, we hope to give managers an alternate look at the technologies available that are both cost-effective and beneficial."
To view the recording of "How to Use Technology to Hire," please click here. For more information on Hireology, please visit The Hireology Blog.