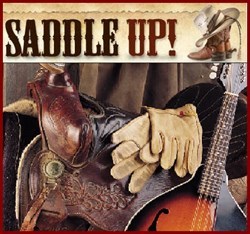 The great thing about this event is the uniqueness of the schedule, from workshops to intimate concerts.
Gatlinburg, TN (PRWEB) January 26, 2014
On January 20, Jackson Mountain Homes, the leading provider of Gatlinburg cabins, announced the return of the Saddle up event in Pigeon Forge. This year, the 14th Western annual event will offer activities and presentations that provide an inside view of what life was like for Americans at that time.
"The great thing about this event is the uniqueness of the schedule, from workshops to intimate concerts," said a spokesperson for Jackson Mountain Homes. "Saddle Up attendees will enjoy a sampling of Western-inspired food from an authentic Chuck Wagon, as well as classes, dances and concerts."
Kicking off with a Songwriter's Workshop at 10:00 a.m. on February 19, Saddle Up will run through February 23. Admission to most of the events is free, but a few of the presentations, meals and concerts will include a cost. Events that charge admission are indicated on Jackson Mountain Homes' complete schedule, including the prices.
Jackson Mountain Homes shares that Saddle Up brings talented Western singers and songwriters together from across the country each year, and the cabin rental company released the names and performance times of this year's musical guests. Belinda Gail, Andy Nelson, Red Steagall and Don Edwards are a few of the musical artists headlining Saddle Up's intimate concerts.
The majority of the events scheduled will be held in the new Pigeon Forge LeConte Center, with some events scheduled to be at the Pottery House Cafe at the Old Mill Square, Clabough's Campground or Smoky Mountain Guitars.
Jackson Mountain Homes proudly offers guests of this year's Saddle Up a comfortable and private cabin rental. Just a short drive from the festivities, secluded Gatlinburg cabins provide mountain views and a convenient location.
Celebrating 18 years of bringing families the perfect Smoky Mountain vacation, Jackson Mountain Homes provides only the finest Gatlinburg cabins and Gatlinburg chalets. Long-time friends and owners Michael Anderson and A.J. Bland pride themselves on the highest quality accommodations and service to each guest, owner and prospective owner to visit Jackson Mountain Homes. Jackson Mountain Homes' office is located next to the Old Gatlinburg Crafts District at 1662 East Parkway. For additional information on Jackson Mountain Homes, visit their website at http://www.jacksonmountainhomes.com, or give them a call at 1-866-518-0498. Office hours are 9 a.m.-5:30 p.m.