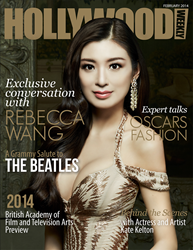 (PRWEB) February 11, 2014
In the recent Hollywood Weekly edition published in the week preceding the British Academy of Film and Television Arts (BAFTA) Awards, executive producer, entrepreneur and former psychotherapist Rebecca Wang provides another stimulating and thought provoking six page interview, giving a special personal insight into this organization for the visual arts and her keen support for health and humanitarian projects.
As someone devoted to all forms of artistic expression, and with personal experience in the film industry, Rebecca Wang describes how it has been a natural step for her to support BAFTA, and why it is close to her heart. She gives an account of how the annual British Academy Film Awards has evolved over recent years into a ceremony of highly respected and influential international ranking on the world film circuit. She also discusses the sheer range of projects and programs BAFTA offers all year round, and most importantly, how the work it is involved with among talented youngsters is ensuring a bright future for UK film, television and video games production.
Sharing her own wealth of knowledge and practice in cinema, Rebecca Wang gives her definition of what constitutes a great film, and gives her assessment for trophy possibilities for the highly acclaimed UK film, 12 Years a Slave. In keeping with her multi-faceted love of and approach to life, readers also learn more about the other arts organizations in the UK which she supports. She enthusiastically describes the pleasure she derives from her connection to these organizations, and readers are permitted a highly personal interpretation of fashion, music and photography.
Wang goes on to explain the qualities and values which are intrinsic to her approach to life and her own personal goals. She tells about how working in accordance with these values has helped her in her many achievements, be they academic study, the practice of psychotherapy, or in creating a Hollywood film with award winning actors.
Her respect for good health as the bedrock of human existence translates into careful daily physical and spiritual practice for her own wellbeing, and then into the realm of health and humanitarian issues which she keenly advocates. For her, the AIDS charities EJAF (the Elton John AIDS Foundation), and amfAR (the American Foundation for AIDS research) are of note, and enthuse her not only because of the remarkable work that they do, but also for their ability to infuse their renowned and stellar international fundraising events with breathtaking artistic creativity.
For Rebecca Wang, any notion of being a role model is of little interest. Of primary importance is the dedication towards her own goals and achievements in life, and for keeping a clear and positive attitude. Also, she enforces her belief that an individual's vision should never bring harm to others. Her words imply that if everyone took these steps, the effect would be a better world for everyone. She states, "The role of celebrity is a responsibility requiring a moral undertaking, given that via social media, those in the limelight are so avidly and slavishly followed and copied by the young. These people wield such a strong influence over that audience, and it should be used wisely. Celebrities have a chance to lead by example by participating in a healthy lifestyle, and positive behaviors towards others."
The interview ends with Wang describing that by practicing discipline and persistence in whatever one does, dreams can be fulfilled. "Ultimately," she tells her readers, "it is you who will make your dreams happen. Nobody else can do that for you."
About Rebecca Wang
Rebecca Wang is an entrepreneur, executive film producer and former psychotherapist who is passionate about all forms of artistic expression. She is also keen in her desire to bring effective support to projects focusing on health and humanitarian issues. Rebecca graduated from the University of California at Berkeley with a Master's degree in Clinical Psychology, and practiced as a psychotherapist at various leading institutions. In 2011, Rebecca made her Hollywood debut as an executive producer and had the opportunity to work with A-list professionals from the film industry for her project.
Rebecca devotes her time and energy to supporting The British Academy of film and Television Arts (bafta), the Elton John Aids Foundation and the American Foundation for AIDS Research (amFAR) where she has acted as sponsor and chair to some of the most renowned Inspiration Galas held world-wide.
Outside her philanthropic role with AIDS-related organizations, her passion for all art forms has acted as a catalyst for her to become patron to many prestigious galleries, and other organizations such as the Victoria and Albert Museum, the Serpentine gallery, the National Gallery and the Tate Modern.
Read the Hollywood Weekly article: http://www.rebeccawangentertainment.com/press/rebecca-wang-featured-in-exclusive-interview-in-the-recent-edition-of-hollywood-weekly