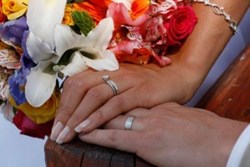 Weddings should be fun and romantic, especially those in the heart of the Smoky Mountains.
Sevierville, TN (PRWEB) January 24, 2014
Every bride deserves to have her dream wedding, and Timber Tops Cabin Rentals wants to help couples make that dream a reality. On January 22, the luxury Gatlinburg cabin provider, unveiled the top four ways couples can plan the perfect Smoky Mountain wedding.
Their four tips were developed to help couples cut down on wedding stress and focus on what matters, marrying each other's best friend. The top tip is to create a budget and stick with it. Timber Tops states that this is the most important way couples can prevent potential wedding arguments and will help them find ways to save money to possibly extend a short honeymoon.
Timber Tops also suggests to get all the legal documents and errands completed early, including picking up the marriage certificate and arranging name and address changes on accounts, policies and invoices. This can cut down on after wedding stress, so newly married couples can focus on beginning a new life together.
Marriage is a big step, but Timber Tops recommends trying to keep stress at a minimum. Not worrying about small, imperfect details can make the day go much more smoothly. The final tip is to enjoy the moment while it lasts.
"Weddings should be fun and romantic, especially those in the heart of the Smoky Mountains," said a spokesperson for Timber Tops Luxury Cabin Rentals. "Surrounded by beautiful scenery and loved ones, this is the perfect moment to take a deep breath and enjoy."
Timber Tops wants to help brides further by providing Smoky Mountain wedding checklists and vendor information on their wedding page. Once wedding plans are complete, Timber Tops is proud to provide secluded Gatlinburg honeymoon cabins that feature hot tubs, spacious floor plans and stunning mountain views.
Established in 1996, Timber Tops Luxury Cabin Rentals is an industry leader in professional property management in the Gatlinburg, Sevierville and Pigeon Forge area. Locally owned, the staff at Timber Tops strives to provide each guest with attentive, courteous, proactive and prompt service to ensure everyone who visits one of our luxurious cabins gets the most out of their vacation. Timber Tops Luxury Cabin Rentals' office is located at 1440 Upper Middle Creek Road, Sevierville, TN 37876. For additional information on our services, or to reserve your cabin today contact us today by calling us at 1 (800) 266-1066, by email at reservations(at)timbertops(dot)net, or visit our website at http://www.yourcabin.com. Our office is open 24 hours a day!