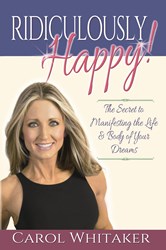 Life is magical if you choose to see the magic all around you.
Los Angeles, CA (PRWEB) January 24, 2014
Who is Carol Whitaker and why is she becoming a recurring guest at some of Sundance's preeminent celebrations this year? From Comcast NBCUniversal, to the Utah Film Commission, and on personal invitation from the organization's director, Marshall Moore. Could they be tapping into Whitaker's RIDICULOUSLY HAPPY? After all, apart from making the Sundance rounds, the Utah beauty is also the author of the newly released book, RIDICULOUSLY HAPPY! The Secret to Manifesting the Life & Body of Your Dreams.
With Whitaker's recent appearances on ABC's "Good Things Utah," it's not unusual for this Utah native, also recognized as a Beauty-Wellness Transformation Expert and Lifestyle Fitness Mentor, to be invited back as a regular guest favorite on the show. Talking about what else? Whitaker's tried and true "live well, feel better" principles for improving the quality of one's life, as now shared with GTU's captivated audience. With each new appearance, she continues her dialogue based on the various chapters in her book. The ABC chat show darling is embraced for her vital message, and her keen presence is further lauded as the one to watch.
http://www.4utah.com/story/how-to-start-a-new-beginning-of-you/d/story/PvV75-7l-UOizFn8lfsRaQ
The author's infectious RIDICULOUSLY HAPPY energy continues to awe and inspire on the set of GTU, even with other guests, including Moore who she met at a recent broadcast. He was making an appearance to talk about Sundance. He invited Whitaker on the spot to their Filmmakers Brunch this week – an annual hosted event for Sundance filmmakers and participants along with local film industry professionals.
It's not hard to understand, or appreciate, why Whitaker continues to be invited to VIP functions upon first meeting her, and of late, on the Sundance dial. Call them command appearances. To look at this beauty-wellness lifestyle expert, there is no mistaking – this girl walks her talk, literally. A physical vision to behold in her own right – reminiscent to that of a statuesque goddess, standing at 5-10 (without heels). Living, and LOOKING, her mantra where SEEING is truly believing.
All this popularity would further explain Whitaker's current Google ranking boasting a count of 4,430,000 hits (where only some short weeks ago, she had garnered a count of 3,540,000 hits). Also looking at her Twitter followers, of almost 4,000, it's no surprise to see how a Whitaker body-mind-spirit command speaking performance (and latest appearances at Sundance), has gone into auto-pilot for the lifestyle fitness maven.
http://www.4utah.com/story/ridiculously-happy-the-secret-to-manifesting-the-l/d/story/icRALQ5_2E-bqxAnWIYfAg
It was Whitaker's own personal transformational journey, from being chronically sick to being healthy, happy and vibrant, which has continued to drive her world and life mission. The multi-faceted Whitaker continues to represent all things to all people… Transformation Expert and Lifestyle Fitness Mentor, Wellness Consultant for ABC's "Good Things Utah," Motivational Speaker, Loving Wife and Mother of 3, Author of the new, befitting titled book, RIDICULOUSLY HAPPY!, and now more recently seen making the Sundance scene.
The "live well, feel better" inspirational author and brand, Whitaker has spun her in-demand international recognition into a thriving Wellness Lifestyle franchise.
"Life is magical if you choose to see the magic all around you."
With the film industry built on creating magic, and Whitaker clearly doing the same, this shared connection, now at Sundance, was a spark bound to happen.
RIDICULOUSLY HAPPY! is now on sale at Amazon.com. It soon will be also available as an eBook and as an audiobook. Visit http://www.CarolWhitaker.com to learn more. Also follow Whitaker on Facebook and Twitter to receive her daily life transformation tips.