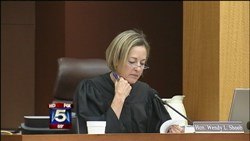 "The substance of this appeal is found to be without possible merit," states Georgia Supreme Court justices in unanimous decision.
Marietta, GA (PRWEB) January 27, 2014
On January 21, 2014 the Georgia Supreme Court of Georgia unanimously upheld a trial judge's decision to force In-ground Trampoline Inventor Richard McDermott to pay to support his children, resolving the contempt issues in McDermott v McDermott.
Filing her fifth contempt motion in January 2011 (2011CV195665) against her former husband for his failure to provide support to their children as required by their divorce decree in October 2005 (2005CV157067), Ms McDermott was awarded payment of all arrears. Mr. McDermott filed an appeal (S14A0155) asserting that Fulton County Superior Court Judge Wendy Shoob improperly denied his Motion for Continuance, denied his Attorney's Entry of Appearance and rejected his attorney's conflict letter, all of which had been filed just two days in advance of the trial date.
"This is a straightforward contempt case that should have been over long ago," said Angela McDermott's Appeals Attorney Michael Manely. "The Court date was set with significant notice, the reported conflict was determined bogus and the Continuance was not necessary. Judge Shoob was absolutely correct in moving this case toward resolution."
The Georgia Supreme Court unanimously agreed stating in the McDermott Dismissal Order Case No. S14A0155 that "the substance of the appeal is found to be without possible merit. Accordingly, the appeal is hereby dismissed as having been improvidently granted. All the Justices concur."
"This is a victory for trial judges everywhere," states Manely. "Mr. McDermott appealed because Judge Shoob wouldn't let him delay the case. He argued that the judge deprived him of counsel. At issue is the court's ability to manage its own calendar by calling cases on for trial, rather than allow the attorneys to show up for court when they want to. Mr. McDermott was apprised of the court date well in advance and his attorneys had no viable reason for being absent – except to delay justice."