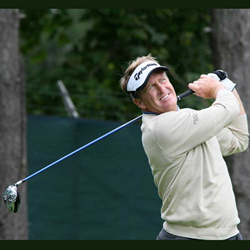 I've found it [Noxicare™] more beneficial than other treatments, and I've been able to stop taking prescription drugs. I was concerned about their potential side effects including liver damage. - Fred Funk
Washington, DC (PRWEB) January 27, 2014
Fred Funk, one of golf's most celebrated players, has signed a endorsement agreement for Truceuticals LLC, makers of Noxicare™, a safe and effective natural pain reliever.
Funk will highlight his new affiliation at both PGA and Champions Tour events throughout 2014.
Even though Funk must compete against rivals like Tiger Woods, Rory McIlroy and Phil Mickelson who are a decade or more younger, Funk says using Noxicare™ gives him the confidence to take on any challenger pain free.
"I've found it more beneficial than other treatments, and I've been able to stop taking prescription drugs. I was concerned about their potential side effects including liver damage," says Funk.
Up until recently Funk was relying on them to ease the pain from overuse injuries in his shoulders and wrists. Last year he had to work through bouts of vertigo and nagging back pain.
It's been more than 30 years since golfer Fred Funk turned professional, but at age 57 he still has the passion to play and the will to win.
"We're delighted that Fred has chosen Noxicare™ as a safe and natural way to relieve pain. More and more patients are discovering that there are alternatives to addictive prescription painkillers and their harmful side effects," says Reza Ghorbani, MD, ABIPP, FIPP.
Doctor Ghorbani created Noxicare™ and is the president and medical director of the Advanced Pain Medicine Institute of Greater Washington, DC. He is also the founder and CEO of Truceuticals LLC. Dr. Ghorbani is also the author of the newly released book, "Secrets to a Pain Free Life". One of the key messages is staying active.
"I play a minimum of 300 rounds of golf a year, and I'm on the course everyday in addition to working out…Golf is a very athletic sport, and you need to stay strong to hang in there" says Funk.
However, that's become increasingly challenging with the wear and tear that accompanies advancing age.
Noxicare™ contains seven natural anti-inflammatories that fight pain. The product is available as a capsule or cream. Funk takes one Noxicare™ capsule twice a day, and uses the cream as a back up, to relieve the pressure on his joints and muscles.
"I have a passion to compete and I'd like to stay on the tour until I'm 70…You can never master golf, but the highs are so great you want to stay on top of the game, but to do that you have to be able to dig out of the those low moments," says Funk.
That includes pain, and Funk says he wouldn't hesitate recommending Noxicare™ to anyone who's hurting no matter how good his or her game.
Noxicare™ is available at http://www.noxicare.com and retailers near you.
About Truceuticals LLC
Our vision at Truceuticals LLC is to make a difference in the lives of people globally through our innovative natural pain relief products and healthy well-being supplements. We aspire to be the MOST DEDICATED healthcare company in the world by providing leading innovations and solutions for tomorrow.
We have made it our mission to provide the safest most innovative, distinctive products that help improve lives, satisfy customer needs and promote healthy living. We deliver highly effective and valuable products as first line tools that complement other medical treatments and therapies to maintain a high quality of life, supporting:
-Pain management
-Maximizing physical and mental capabilities
-Minimize disorders which shorten both the quality and quantity of life
-Maintaining vascular integrity and capability

Maintaining structural capabilities
Our business is preserving and improving human life. We are Truceuticals LLC, and you can trust in us.
http://www.truceuticals.com/