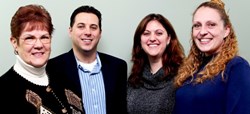 I must be crazy! I think I am actually starting to look forward to going to the dentist. You guys are the best. I don't know what else I can say. Robert V.
Webster NY (PRWEB) January 28, 2014
Children's National Dental Health month is just a few weeks away. And, with February just around the corner, dental clinics and dental care organizations are getting ready.
In a recent study, it is told that American students lose 51 million hours of school due to oral and dental problems. Those who spend more time at a dentist will likely have lower grades than those with good dental health. This is why Juliano Family Dental is taking part with the Children's National Dental Health month.
Dental care is important in both children and adults. Studies show that more than 40% of children ages 2-11 and more than 60% of 16-19 year olds have cavities. While these numbers may be lower than previous years, statistics still present an alarming number of children with poor dental hygiene. In fact, over the years, decay in pre-school children has dramatically risen in numbers.
There is no doubt that young children will be better off with good dental hygiene habits. This will help prevent any decay or dental issues in the future. Sad to say, not all children have regular dental habits. This is something Dr. Juliano, a Webster NY family dentist, and his team would like to change.
Poor dental hygiene does not only cause cavities, decay or toothaches. It can also lead to moderate to severe periodontal issues, mouth ulcers, oral cancer, and even affect your overall immune system. To help minimize the people affected by poor dental hygiene and periodontal disease, good dental habits must be enforced early on.
Children are typically more interested in playing rather than brushing their teeth. This can cause serious problems when teaching your child to promote overall dental care. As dental expert's advice, educating a child on good brushing habits is a must. Let your child read literature on proper dental care at least once a week. Urge them to brush their teeth for a full two minutes, twice a day, and consistently remind them to brush their teeth. By doing this, brushing their teeth regularly will become a habit and they will likely grow up with less dental problems or concerns as compared to those who do not.
Another tip that dentist's recommend is to make brushing 'fun'. Buying a colorful animal-shaped toothbrush will help. So would fruity-flavored fluoride toothpaste. There are multiple ways to engage your child into building good dental habits.
One of the concerns of dental health in children, according to Dr. Juliano, is their fear of visiting a dentist. As Dr. Juliano stated, "Parents can avoid this from happening to their children by letting them go with them during their appointments. Most children expect shouting and pain when visiting the dentist. Show them that this is not the case. If possible, choose a dentist who specializes in dental services for kids. This will help them warm up to the thought of visiting their dentist."
Juliano Family Dental is a Webster NY general dental office who is ALWAYS accepting new patients. Some of the services that they offer are fillings, crowns, bridges, root canals, partials, dentures, implant restorations and overall basic dental care.
If you are interested in visiting Dr. Juliano for an appointment, please visit their website at http://julianofamilydental.com/ or get in touch via their Facebook page, https://www.facebook.com/JulianoFamilyDental. Juliano Family Dental is located at 1998 Empire Blvd Webster, NY 14580.
Visit their office or call them at (585) 671-9580 to schedule an appointment today.