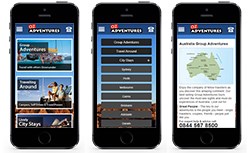 (PRWEB UK) 28 January 2014
Putting everything in place for the would-be Australian gap year traveler, OzAdventures are thrilled to announce that their website has now been fully optimized upon mobile format, meaning that keen 20-somethings can now start building their dream break Down Under from the power of their fingertips.
The Australian gap year and adventure holiday specialists have transported all of the latest deals, arrival packages, stopover options and more to the iPhone, iPad, iPod, Android and Blackberry devices.
Now more people can still fit such gap year aspirations into their hectic schedules, whether they are commuting to University or enjoying a lunch break upon work experience.
Placing the gap year traveler at the center of their business, travelers who have visited the desktop version of OzAdventures before are greeted with a familiar warm and insightful splash page.
Here, visitors are swiftly able to look up all of the necessary information required when comprehending a gap year Down Under.
With clearly signposted mobile site subsections comprising the group adventures available, how to travel around, city hostels to stay in and a concise introduction into Australia's popularity as a world class gap year destination, most, if not all traveler queries are answered within just a few navigational clicks.
An easily manageable navigation menu sets the benchmark upon the newly optimized mobile site with visitors being able to effortlessly consider each component of OzAdventures' overall gap year offering.
Whether it's small group tours of Australia, Contiki 18-35 packages or camping ventures in New Zealand or Greyhound Bus travel in Australia, campervan hire in New Zealand or hotels in the Adelaide vicinity, each of these areas and so much more negotiate their own dedicated landing page.
These insightful pages burst with traveler options, tour length, the price per person and a short description into each feature, all laced with the functionality to either call a trusty OzAdventures consultant direct or inquire about a particular package further online.
Maps of Australia and New Zealand, detailed city street plans, photographs of the types of vehicle and campervan hire available and hotel snapshots all make the new OzAdventures mobile site the most perfect accompaniment in the gap year decision making process.
It really couldn't be any simpler for students and 20-somethings to peruse an incredibly fulfilling and reassuring portfolio – boasting snorkeling, camping, bungee jumping and more, not to mention meeting new people – ahead of an unforgettable break spent in exciting, unfamiliar surroundings.
The slick mobile launch perfectly complements the largest OzAdventures offering to date as the company embraces 2014 with OzAdventures currently stripping almost £300 off of their ever popular 14-day Beaches and Reefs package – of course comprising the world class Great Barrier Reef.