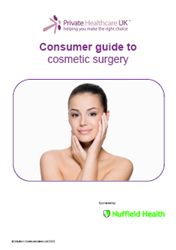 The Cosmetic Surgery Guide fits with the Nuffield Health ethos of providing the best advice, the best care and the best results. It's important that any customer considering cosmetic surgery has all the information they need.
London, UK (PRWEB UK) 27 January 2014
Nuffield Health to sponsor The Cosmetic Surgery Guide from Private Healthcare UK.
The Cosmetic Surgery Guide is designed to help consumers make decisions about any cosmetic surgery they are considering, helping them to find the right procedure and the best doctor for their needs or aspirations. Written by acclaimed medical journalist Kathryn Senior, the guide offers impartial, practical advice on all aspects of choosing to undergo cosmetic surgery by outlining the benefits and risks of the operations and treatments on offer in the UK and giving guidance on how to find the right doctor to perform a customer's chosen procedure.
The 63 page guide is available free to consumers and can be downloaded from http://www.privatehealthcare.co.uk/cosmetic-surgery/cosmetic-surgery-guide/.
Nuffield Health is the UK's largest health care charity and social enterprise, bringing together private hospitals, health clinics, fitness & wellbeing centres, diagnostic units and a wide range of treatments. They have over 200 facilities across the UK, aiming to help people get healthy and stay healthy.
Nick Costa, Business Development Director at Nuffield Health Hospitals, said that sponsoring the Guide was a good fit with their brand, and in line with recent patient initiatives led by the organisation:
"The Cosmetic Surgery Guide fits with the Nuffield Health ethos of providing the best advice, the best care and the best results. It's important that any customer considering cosmetic surgery has all the information they need to make an informed decision and find the right procedure and hospital to suit their needs. Cosmetic surgery is a choice and one which should only be carried out over time, in consultation with the best trained consultants and safe in the knowledge that you will be cared for to the highest standard, before during and after treatment and for as long as necessary. This guide will help ensure that patients make the right choices about their cosmetic care, and Nuffield Health are pleased to be a part of this."
Keith Pollard, Managing Director of PrivateHealthcare.co.uk, publishers of The Cosmetic Surgery Guide says he was delighted to be able to work with Nuffield Health:
"The guide is one of the cornerstones of our business, exemplifying the kind of independent, unbiased and essential information patients need to make the right decisions about cosmetic or medical treatments, so we were keen to align it with a well respected and market-leading brand. Nuffield Health has a similarly rigorous and patient-focused approach that makes them the perfect partner for the guide and for privatehealthcare.co.uk."