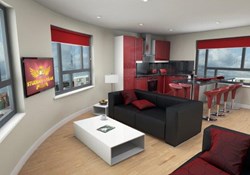 The CBRE Student Accommodation Index showed returns of up to 9.95% in the 12 months to September 2013
(PRWEB UK) 28 January 2014
Despite monthly rents increasing by 2% during 2013, the average buy-to-let yield for a UK landlord sits at 6.1% gross, down 0.1% on 2012. Once more student accommodation thrashes this figure with Go Global Investments able to offer sustainable and assured yields of 7 to 9% - net.
Peter McDermott, Director of UK-based Go Global Investments, comments, "These latest figures from Countrywide Residential Lettings (Jan 2014) show that despite 'Generation Rent,' where the number of people renting from a landlord has doubled to 8.5 million in 15 years (Channel 4, Jan 2014), gross rental yields are sticking around the 6% mark. Once you factor in void periods, tax implications, maintenance costs and chasing unpaid rent, the financial appeal of being a buy-to-let landlord loses some of its gloss. This is why serious serial UK property investors are coming to us to discuss student housing where, for example at our Leeds project, they're assured a minimum 8.1% net for five years."
Student accommodation is now perceived as an established mainstream asset class. With no cap on an ever-growing number of often affluent international students, demand is very high and returns just as attractive. The CBRE Student Accommodation Index (Dec 2013) showed returns of up to 9.95% in the 12 months to September 2013. That's higher than returns outlined by performance analysts Investment Property Databank (IPD) for office, industrial and retail property for the same period – and without factoring in capital growth as the UK housing market rises.
Peter continues, "An investment in student housing generates far fewer headaches than your average buy-to-let, largely because the entire process is hands-off. The professional management company finds the tenants, maintains the building and uses economies of scale to drive down running costs. All the investor has to do is watch regular rental returns appear in the bank account."
"Likewise, this investment is low risk," says Peter. "Student accommodation now has a proven track record and its success is underpinned by exceptionally high tenancy rates of 98% plus, alongside a chronic undersupply of dedicated housing in most top university cities across the UK. Applications to UCAS from outside of Europe, particularly the Far East, have seen average annual growth of 8.5% between 2007 and 2013 (July 2013) and this is a target audience for safe, quality accommodation within easy reach of campus. This asset class is also recession-resistant as the number of university applicants tends to rise in an economic downturn, as they postpone a career in order to gain more qualifications."
With a 'carrot' from the developer of assured net rental yields, and a 'stick' from local government to free-up Houses of Multiple Occupancy (HMOs) currently used by students for 'normal' families, and create high quality purpose-built student housing, this asset class will be outperforming all other types of UK property investment for some time yet.
On the Market: Go Global Investments is currently promoting purpose-built off-plan student accommodation in Leeds. Blending fast-paced urban living with idyllic Yorkshire Dale countryside, Leeds is a favourite with students. With almost 60,000 full- and part-time students attending its two universities and five colleges, Leeds is the second largest provider of education in the UK but only 24% of these students can be housed in university-supplied rooms, the rest either live at home or in one of the City's many HMOs. 3,389 homes could be freed up (Savills) for normal family housing (and generate millions in council tax) if more dedicated student accommodation was built. Asquith House and Austin Hall provide exactly that.
With 298 en suite bedrooms and studios arranged between them, these two buildings are a five minute walk to Leeds' two main university campuses and a ten minute walk from the city centre. Many bars, cafes, restaurants and shops are close by. Accommodation is arranged in 'apartments' of four to six fully furnished bedrooms, each sharing a communal area complete with kitchen, dining area and lounge with flatscreen TV. High speed internet is available throughout as well as bicycle storage, a laundrette and both CCTV and in-house security. A management company is appointed to handle deposits, check rooms and ensure high standards, it will also control a sinking fund to cover maintenance of communal areas.
Prices start from 52,995 GBP for an en suite bedroom unit on a 999 year leasehold basis. A net minimum yield of 8.1% is assured for five years from April 2015, with completion of the off-plan project scheduled for January of the same year. Stage payments are available. Previous projects from the same developer in Chester and Liverpool currently enjoy 100% occupancy of available rooms as well as a waiting list comprising tenants of all nationalities. For these projects the developer offered investors a fixed net return, in the case of Leeds this has been amended to a minimum assured yield plus the benefit of any additional rent generated by the unit purchased – therefore anticipated returns could be much higher than 8.1%. Liverpool and Chester are already outperforming expectations.
For further information contact Go Global Investments on +44 (0) 1525 210 821, email info(at)goglobalinvestments(dot)com or visit http://www.goglobalinvestments.com.
for further press information or photography please contact Sarah Drane on sarah(at)purplecakefactory(dot)com or call 00 34 607 564 726.