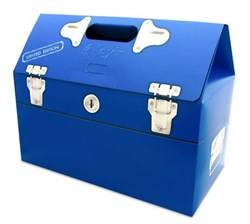 The whole is more than the sum of its parts
(PRWEB UK) 18 February 2014
Following the success of the Alexir Innovation Centre at the Packaging Innovations Show in London last year, the Alexir Partnership will be taking a similar proposition to the show at the NEC in Birmingham on 26-27 February. Alexir will be displaying yet more examples of their innovative and extensive manufacturing capabilities on stand J43. A marketing campaign will precede the show with a series of promotional mailouts to a number of brand owners with a range of high street products that epitomise the full extent of the Alexir offering. An Alexir 'toolbox' has been designed with a tools checklist to designate the areas of the business that have been utilised to create the end products. The tools checklist is made up of the different arms of the business; design, packaging, out-sourcing, co-manufacturing and agencies. The premise of the marketing activity and the exhibition presence is to demonstrate how Alexir can produce and develop additional revenue streams for brand owners looking for true innovation in the packaging industry.
Also on the stand Alexir will be showcasing the new GALAXY Iced Coffee Cartocan® which will be available in two varieties, Single Shot and Double Shot Mocha Latte. The Double Shot provides that extra burst of coffee flavour, while the Single Shot hits the mark with coffee fans – combining the taste of coffee with the creamy taste of GALAXY chocolate.
The Alexir Partnership teamed up with Ennstal Milch to launch the new Cartocan® into the UK market at the Packaging Innovations Show in London last year. The Cartocan® is the first and only cylindrical packaging format made from carton board to be filled aseptically with liquid and have a shelf-life of up to 12 months unchilled. This environmentally-friendly alternative is aimed at premium products in the drinks industry, covering all sectors other than carbonated.
Diana Steiner, from Austria, will be available on the stand to meet potential customers and answer any questions about this innovative development in the drinks industry. She says "We are happy to announce that GALAXY Iced Coffee Double and Single Shot Mocha Latte is now available in our environmentally-friendly trendsetter, Cartocan®! We are proud to have such a well-known reference partner for our market leader – made in Austria!"
About the Alexir Partnership
The Alexir Partnership is the only company in the UK that can offer a complete 'design to delivery' service. The four arms of the business encompass brand design, packaging production, out-sourcing and co-manufacturing, ensuring its unique position in the packaging industry in the UK.