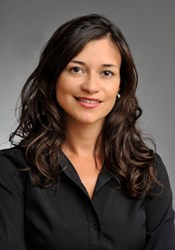 Inlanta Mortgage is big enough to serve, small enough to care.
(PRWEB) January 29, 2014
Inlanta Mortgage is pleased to welcome Siomara Barboza to the origination team in Oak Brook, Illinois. Barboza is a bi-lingual loan originator who specializes in helping Hispanic homebuyers with their financing needs.
Siomara Barboza started her career in the mortgage industry a year after graduating from the University of Illinois in Chicago in 2002. She began as an assistant to the top producer, while being the only Spanish speaker in the office and assisting with all the Hispanic clientele. After a couple of years of learning the ropes, she branched out on her own.
In 2008, Barboza left Bank of America to take a mortgage consulting position at Wells Fargo Home Mortgage. While at Wells Fargo, Barboza was one of the top 5 originators in the diverse market in the Chicagoland area. She directly helped over 400 Hispanic families purchase their first home by leading the mortgage process. She also assisted with Wells Fargo REO business and cultivated the relationship between business partners. In addition, Barboza played an active role in growing the awareness of NAHREP's (National Association of Hispanic Real Estate Partners) Chicago chapter among Chicago's south & north side real estate partners in 2009. In mid-2011, she took a sales management position with Nationstar Mortgage. She is an active member of Hispanic Pro, NAHREP, WCR (Women's Council of Realtors), and volunteers at not-for-profit organizations throughout the city of Chicago.
Oak Brook Branch Manager, Mark Schulenburg said, "We are delighted to have Siomara Barboza join our team. She is a top producing, highly effective mortgage professional. Siomara has a wealth of experience and a track record of exceeding customer expectations. Her knowledge of the market and leadership capabilities makes her to be the lender of choice for many top real estate professionals in the Chicago area."
Barboza has chosen to team up with Inlanta Mortgage after meeting its knowledgeable and dedicated staff. Working with a group of like-minded individuals who make it their first priority to work not only efficiently, but also professionally with the client in mind was important. Receiving referrals has been the key to Barboza's success. Aligning herself with a company that offers its clients a vast array of products while working in a team environment with open communication and transparency was an important factor in the decision making process.
Barboza says, "Inlanta Mortgage is big enough to serve, small enough to care."
Barboza is located at the Inlanta Mortgage – Oak Brook office, which can be found at 2803 Butterfield Road, Suite 130, Oak Brook, IL 60523. She can be reached by phone at 773-789-5247 or by email at siomarabarboza(at)inlanta(dot)com. Learn more about Siomara Barboza on her web site at http://www.siomarabarboza.com.
About Inlanta Mortgage
Headquartered in Brookfield, Wis., Inlanta Mortgage was established in 1993. The company has grown to 30 branches in 16 states and over 200 employees. The company is an agency approved lender for Freddie Mac, Fannie Mae, FHA/VA, FHA 203K and USDA. Inlanta Mortgage also offers numerous state bond agency programs.
Inlanta Mortgage was named a Top Workplace in 2012, has been listed on Mortgage Technology's Top 25 Tech Savvy Lenders List every year since 2010, Mortgage Executive Magazine's "Top 100 Mortgage Companies in America" in 2011 and 2012, and the Scotsman Guide's 2012 Top Mortgage Lenders list.
Inlanta Mortgage's mission is to be the home financing partner that you trust to serve your family, friends and community. Through their family of dedicated mortgage professionals Inlanta's commitment is to deliver an exceptional experience. Inlanta's unwavering dedication to integrity, honesty and ethics is the foundation of all of their relationships.
Mortgage loan officers and branch managers are encouraged to visit http://www.InlantaPartners.com to learn more about the Inlanta Mortgage support platform. For more information, please call Inlanta Mortgage at 262-439-4260 or email partners(at)inlanta(dot)com.