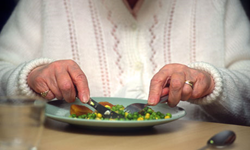 "Our Company is a network of doctors who work to treat Neuropathy as a whole. We treat Neuropathy in a safe, drug-free, non-invasive, way. We see success with about 85 percent of our patients."
Orange County, CA (PRWEB) February 28, 2014
Optimal Health Straw Chiropractic announces their new series of Dinner Seminars, an outreach program to educate the community about Neuropathy. Optimal Health Straw Chiropractic physicians focus on the treatment of peripheral Neuropathy, a nerve problem in the arms, hands, legs and feet. For patients battling Neuropathy, it's important to recognize all of the result based, non-invasive, drug-free treatment options.
Most of patients that turn to Optimal Health Straw Chiropractic have already been to several doctors and specialists, have used a variety of strong drugs, have tried chiropractic and physical therapy, and many have even undergone surgery. Those patients seek care from Optimal Health Straw Chiropractic because their feet are still in pain, they have balance issues or are completely numb, and they are tired of merely treating the symptoms. They want to treat the actual problem.
Typically to treat Neuropathy, neurologists prescribe drugs to treat the symptoms and then refer patients to physical therapists, who treat the muscle and joint pain. Optimal Health Straw Chiropractic uses a different approach. Rather than simply treating the side effects, Optimal Health Straw Chiropractic targets the root of the problem and uses a holistic, drug-free approach to cure the problem at the source-- in the nerves. Optimal Health Straw Chiropractic uses the most advanced, drug and painless treatments to treat the problem, not just mask the symptoms.
A practicing doctor at Optimal Health Straw Chiropractic commented, "Our Company is a network of doctors who work to treat Neuropathy as a whole. We treat Neuropathy in a safe, drug-free, non-invasive, way. We see success with about 85 percent of our patients."
"You must be able to speak the language of the nerves to be able to treat them. We offer these public outreach events, put on by a network of doctors who treat Neuropathy, as a way to educate and find help for patients. Many of our patients were not told about this disease and have no idea about what it is and why they feel pain. We provide answers, a solution to cure nerve pain, a way to treat the problem." At Optimal Health Straw Chiropractic, the care our patients receive is customized to their individual need; not just a one-size-fits-all approach.
These complementary dinner events are taking place at Coco's and Mimi's restaurants in the Inland Empire, Orange County, San Diego County and Los Angeles County. Optimal Health Straw Chiropractic has many locations across Southern California including Glendale, Placentia, Lake Forest, Corona and San Diego.
For more information visit http://www.optimalhealthsc.com