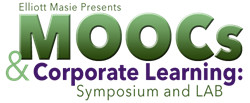 Corporate Learning directors are looking for innovations that will provide more scalable, personalized and learner-driven content...We are honored to organize the first MOOCs and Corporate Learning Symposium and LAB. - Elliott Masie
Saratoga Springs, NY (PRWEB) January 27, 2014
The MOOC (a Massive Open Online Course) is a highly publicized and fascinating education innovation experiment growing in the world of higher education --- but will it work in the Corporate Learning environment?
Elliott Masie and The Learning CONSORTIUM are announcing a new program focused on the roles of MOOCs for employee learning:
MOOCs & Corporate Learning: Symposium & Lab
April 2, 3 and 4, 2014
Saratoga Springs, NY
Info: http://www.learningmoocs.com
"Corporate Learning directors are looking for innovations that will provide more scalable, personalized and learner-driven content solutions for the workplace. MOOCs and MOOC-Adaption may offer a framework for extending the reach of learning for employees. We are honored to organize the first MOOCs and Corporate Learning Symposium and LAB," said Elliott Masie, Chair of The Learning CONSORTIUM.
Content issues and questions will include:

Current MOOC Use: What's Working? What's Hype? What's Changing?
Designing MOOCs in a Corporate Setting
Why MOOCs at the Workplace?
Playing with the MOOC Letters:
o Massive: How wide can a corporate MOOC extend? To a half million workers? What support needs does a Massive MOOC require?
o Open: How Open is a corporate MOOC? Is access Open? Is content from Open sources? Is MOOC content placed in an Open Format? Can we bill or charge for an Open program?
o Online: MOOCs that are 100% asynchronous? MOOCs that include real-time live collaboration? MOOCs blended with Face to Face? MOOCs on a global basis in many languages?
o Course/Credentials: What does the C stand for? Course, Content, Credit, Credential, Certificate? How accountable is the MOOC user?

MOOCs and Certification?
Using External MOOCs for a Workplace Learning Activity
Mini-MOOCs: Creating a Behind-the-Firewall Subset of a MOOC
Learning Systems (LMS/LCMS) & MOOCs: Friends, Foes or Cousins?
Completion & Attrition Rates for MOOCs
MOOCs and Compliance/Regulation?
MOOCs and Assessment Models: Credits, Courses, Certificates?
MOOCs and Learning Preferences/Personalization?
MOOCs: Fans and Opponents – Evidence For and Against MOOCs
Design Skills for MOOCs
Branding Issues: Do We Call it a MOOC?
MOOC Partners and Providers: From MIT to Coursera to edX to FutureLearn
Corporate MOOCs in Action: From Yahoo to Bank of America to New Hire Orientation MOOCs
Your Questions about and Issues with MOOCs
Elliott Masie will lead this program, with perspectives from corporate MOOC implementers, technology platforms and Higher Education partners.
Space is limited and we encourage Early Registration with a time limited discount. The program includes a 2 ½ day Face-to-Face Program and a series of MOOCs and Design MOOCs you can utilize before and after your visit to Saratoga Springs.
Details and online registration at http://www.learningmoocs.com.
The MASIE Center is an international Learning LAB and research center working with Global Organizations. Headquarters are in Saratoga Springs, NY, with staff located in Virginia and Shanghai, China.
For more information, please visit http://www.masie.com.