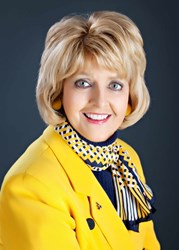 Our athletic department has now grown to a size such that the logical next step is creating the position of athletic director.
Oklahoma City, OK (PRWEB) January 29, 2014
Citing a "new vision" for the future, Rose State College President Jeanie Webb announced an expansion to the college's current athletic programs. Beginning in the fall of 2014, intercollegiate soccer will be added to the existing Rose State baseball and softball programs.
"Many of our students have been asking for more sports and activities on campus," said Dr. Webb. "When the opportunity arose to expand athletics, our student senate got totally behind the idea and helped make it happen."
The expansion of Rose State's athletics has created the need for a revised structure to manage and coordinate the various programs.
"Our athletic department has now grown to a size such that the logical next step is creating the position of athletic director," Dr. Webb said. "I am therefore pleased to announce that Mr. Joey DaVault has agreed to serve as the college's athletic director."
Most recently DaVault served as the director of the Community Learning Center for Rose State College, where he led the team responsible for managing the college's non-credit courses, including the extremely popular Kids College program. DaVault was a member of Durant High School's first state championship football team in 1979 and went on to a coaching career including stops at Southeastern Oklahoma State University, Norman High, and Norman North High School. DaVault was named Oklahoma State Secondary Athletic Association All-State golf coach as well as Oklahoman Coach of the Year while at Norman Public Schools.
"I'm very excited about this opportunity and look forward to providing the best athletic experience for our student athletes at Rose State," DaVault said.
DaVault said the college is preparing to field a Division I soccer program, for participation in Region II of the National Junior College Athletic Association (NJCAA). DaVault indicated more details would be released as the program develops.
About Rose State College:
Rose State College offered its first classes on September 21, 1970. As a public, open admissions, associate degree granting institution, Rose State College provides higher education preparation for lifelong learning through programs and services designed to serve a diverse community. The college is located just minutes away from downtown Oklahoma City, and right off Interstate 40 and Hudiburg Drive. The campus includes twenty-five buildings on approximately 120 acres.