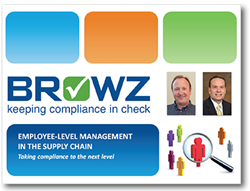 "Industry-leading organizations seeking to understand their full risk exposure are moving beyond company-level compliance to employee-level compliance."
Salt Lake City, UT (PRWEB) January 29, 2014
BROWZ LLC will host a free webinar entitled, Employee-Level Management in the Supply Chain, on February 6, 2014 at 12:00pm EST. The webinar will cover why managing the employees of your contractors is critical, what information is important to track, and a live demonstration of BROWZ capabilities to capture and manage employee-level compliance.
"Contractor prequalification has always been at the core of what we do and one of our areas of focus over the last year has been enhancing our employee-level management capabilities for our customers," Aaron Rudd, Vice President of Product Management at BROWZ. "March of last year we released a new product, Training Center, to help our customers provide online training to their contractors. In December we launched Time & Attendance Tracking to enable customers to track the time and attendance of their contractors. We want our customers to have assurance that their contractors' employees are fully trained and compliant prior to gaining access to their sites as well as having an accurate record of who is onsite and when, therefore, limiting the risk to their business and providing increased management capability. "
The webinar will be presented by BROWZ Director of Safety & Auditing Services, Pat Cunningham, who has a Masters in Occupational Health & Safety Management and over 25 years of experience in the field of safety. Pat will address common challenges that site operators face when managing the employees of third-party contractors. A live demonstration will be conducted by John Bowen, Director of Product Development covering BROWZ offerings including Employee-Level Management, Training Center, and Time & Attendance Tracking.
"Industry-leading organizations seeking to understand their full risk exposure are moving beyond company-level compliance to employee-level compliance," says Cunningham. "This means tracking the compliance of employees working for third-party vendors and contractors. The BROWZ contractor management solution is more than just contractor screening, it includes identifying risk at all levels of the supply chain and then addressing it. In this case we want to ensure that all employees have received appropriate certification, that's when organizations realize the true benefit of contractor safety, when accidents cease because the appropriate training is in place."
To attend this webinar, please visit http://www2.browz.com/ELM-Webinar.
BROWZ is the leading solution for comprehensive supply chain risk mitigation. Its fully configurable solution simplifies the exchange, verification, and maintenance of critical data between clients and their supply chain, while adapting to the clients unique business needs. Delivered as a software as a service (SaaS) solution, BROWZ functions as a central, web-based data repository for all supply chain prequalification and compliance information and is available 24/7 and in multiple languages anywhere around the world. Through a combination of compliance expertise, technology, and service, BROWZ addresses supply chain compliance needs related to insurance and risk, environmental health & safety, corporate social responsibility, financial stability, supplier demographics, employee level management, security, and much more. For more information, visit http://www.browz.com.