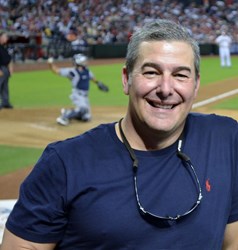 It's really not very surprising that the Bible's teachings can be applied to successfully to business practices.
Lafayette, Louisiana (PRWEB) February 17, 2014
Sometimes, combining two things that don't seem to go together results in a fantastic partnership. The two things often complement each other, bringing to the forefront previously underappreciated qualities, and highlighting other aspects that benefit from the mix. Such is the case with the combination of business and ministry. However, Todd McBroom hopes to make the combination more mainstream with his upcoming book, God Was Self- Employed. McBroom, a speaker, entrepreneur, and Christian, is excited to guide readers to financial success through the Bible's teachings.
Todd McBroom often uses the Bible to illustrate or deepen a lesson he's teaching, whether he's writing about it or speaking to a crowd. There's even one he likes to use to explain his book; it revolves around the fact that the book includes easy-to-understand principles of success, and that readers will finish the book and feel confident applying these principles. McBroom references John 8:32, "And ye shall know the truth, and the truth shall make you free." He explains that the Biblical meaning of "know" implies intimacy and deep understanding, and that after reading God Was Self- Employed, the new knowledge of the principles outlined will allow the reader to find freedom.
Once you truly know something in the Biblical sense, it's so close to you it becomes part of your belief structure. As a result, it's impossible not to implement it. This is only one of many was McBroom relates business and the Bible. "It's really not very surprising that the Bible's teachings can be applied to successfully to business practices," he states.
McBroom adds, "Even Abraham had his wealth diversified in cattle, silver, and gold."
Todd McBroom
Todd McBroom is a Christian, husband and father, entrepreneur, author, and speaker. He often uses lessons in the Bible to enhance his own teaching, endeavoring to help people deal with and succeed in the real world. Todd hopes to inspire others to take advantage of the many opportunities offered to them through his unique combination of expertise in both business and ministry.
For more information, please visit ToddMcBroom.com or connect directly with Todd at toddmcbroom(at)gmail(dot)com 337.349.6426.