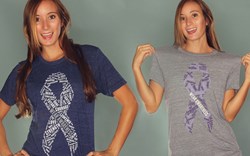 "We are proud to support and promote awareness for all cancers. As we grow, we look forward to increasing our apparel offering, to different cancers and other life altering diseases" - Casie VanderLind, Wear Awareness Founder
(PRWEB) January 28, 2014
AC apparel's flagship brand, Wear Awareness is now giving $8 from every shirt sold to cancer patients in need. Started by 24-year-old cancer survivor, Casie VanderLind, Wear Awareness is a new cancer awareness apparel company focused on providing comfortable attire and giving back to those in need.
Wear Awareness founder Casie VanderLind knows all too well the reality of facing cancer. Casie was diagnosed with stage three melanoma, just one week after graduating from college. After undergoing two surgeries and chemotherapy treatment, Casie won her battle and recently celebrated her two -year "cancerversary".
Since its launch in November, Wear Awareness has been helping current cancer fighters with expenses not covered by insurance such as co-pays, gas and hotel expenses, and more.
"I know how much expenses can really add up," says VanderLind. "If we can help out while letting people know they are not in this alone, our mission is complete."
In addition to giving to those in need, Wear Awareness promotes cancer awareness through their custom designed t-shirts. Wear Awareness currently sells shirts promoting melanoma and ovarian cancer awareness as well as a general cancer ribbon shirt that encompasses all forms of cancer.
"We are proud to support and promote awareness for all cancers. As we grow, we look forward to increasing our apparel offering, to different cancers and other life altering diseases," said VanderLind.
For all inquiries and more information on Wear Awareness, please visit http://www.wear-awareness.com or contact info(at)wear-awareness(dot)com.
About Wear Awareness
Wear Awareness was launched in October 2013 to spread cancer awareness and give back to those in need. Wear Awareness creates and designs apparel promoting awareness for different forms of cancer and other life altering diseases, with eight dollars of every shirt going to help a current cancer patient with expenses not covered by insurance. Started by a cancer survivor, Casie VanderLind and her husband Andrew, the company's goal is to make a difference in people's lives by increasing awareness and providing support.