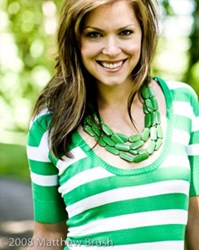 "Bethany is a ray of sunshine that pushes your buttons, yet with the utmost positive intention and if you choose to trust the process you too will see results and shine brightly." - Stacie P.
Los Angeles, CA (PRWEB) January 28, 2014
As a catalyst for entrepreneurs and personal development, Bethany Londyn of Londyn Heights was encouraged by multiple colleagues to bring this webinar into production with her passion for startups. As her website claims, Londyn Heights is "AddiKted to Entrepreneurship". Londyn took on the challenge and introduced her first webinar last week with amazing reviews and feedback. So another one has been set for this week.
This free webinar is called, Ignite One's Life where one will learn valuable tools to create a difference now. One can change a life and it doesn't have to take days, weeks or months. Ignite One's Life can ignite a fire and create a shift in their life in an instance.
"This is geared to really anyone I'd say who is what I call a "DoEr" or one that wants to be that is looking to improve their life whether it's business, personal, relationships, sales, financial," explains Bethany Londyn who has a special webinar January 30, 11:00 am PST to introduce her new course.
One gets to discover a unique 5 step formula to create change and incredible results for themselves. They will learn tips to reset the mind for clarity & induce creativity, discover vision and dreams, new and old. One will find a new outlook on how to deal with excuses. One has the power to shift their life if one chooses.
Londyn is a successful entrepreneur that has spent over a decade in Management & Sales positions within the Finance and Real Estate sectors, built up a Real Estate Portfolio and taken part in a couple of startups over the past few years as Business Development, including her own baby, ShopAddiKt.com where one gets to name their price on their favorite fashion desires to not only be alerted of sales, but have the potential of having ShopAddiKt negotiate on the client's behalf.
She increased market share at her companies by creating strategic marketing plans and business relationships. Bethany holds a Bachelor of Science in Business Finance from Portland State University.
If a client is looking to make a shift in their life and make those dreams a reality, or are an entrepreneur of any sort, then this webinar will be extremely valuable to you. The webinar takes place Thursday 1/30/14 at 11 a.m. PST and here's a link.
For more information on Bethany's projects, visit http://www.londynheights.com.