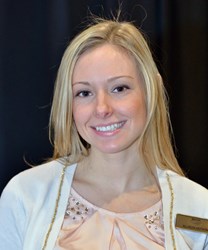 Lancaster, PA (PRWEB) January 29, 2014
The Lancaster Marriott at Penn Square is pleased to announce that Allison K. Anthony has been named catering sales manager.
Anthony will be responsible for wedding-related sales for the 299-room hotel and convention center offering a combined 90,000 square feet of meeting and event space. Previously Anthony was group sales manager for the Grand Hyatt Washington and Hyatt Regency Washington on Capitol Hill, Washington, D.C. She earned a Bachelor of Science degree (cum laude) in hotel, restaurant and institutional management from Penn State University with an emphasis on meetings, events, catering, and sales.
"We are delighted to have Allison join our sales management staff," said Josh Nowak, director of sales and marketing for the Lancaster County Convention Center and Lancaster Marriott at Penn Square. "Allison's in-depth understanding of hospitality sales, combined with her proven record of distinguished service, makes her a valuable addition to our team."
About the integrated facility
Lancaster's convention center hotel facility is aptly located at the intersection of King and Queen Streets on Lancaster's historic Penn Square. Anchoring Downtown Lancaster and incorporating the 110-year-old Beaux Arts façade of the historic former Watt & Shand department store, the uniquely integrated hotel / convention center facility offers a combined 90,000 square feet of meeting space and the latest technology for conventions, events, and trade shows. Appealing as a unique world-class facility set in a smaller, less expensive urban destination, the convention center facility is centrally located to the metropolitan areas of Philadelphia, Pittsburgh, Baltimore, Washington, D.C. and New York. The venue offers space for groups up to 5,000 and includes a convention and exhibition hall, two grand ballrooms, and several finely appointed meeting and board rooms. In the 299-room hotel portion of the facility, guests enjoy all the amenities commanded by the Marriott name, including granite counters, 37-inch LCD high-definition screens, smart plug-and-play systems for connecting laptops to TVs, and luxurious pillow-top bedding. The Lancaster County Convention Center and Lancaster Marriott at Penn Square is operated by Interstate Hotels & Resorts (http://www.interstatehotels.com), the leading U.S.-based global hotel management company.
Booking information
To book an event at the integrated facility, call Josh Nowak at 717-207-4044. Additional information is available at http://www.marriottlancaster.com and http://www.lancasterconventioncenter.com.
About ownership of the integrated facility
The Lancaster Marriott at Penn Square is owned by the Redevelopment Authority of the City of Lancaster and leased to Penn Square Partners, the private company that holds the Marriott franchise. The Lancaster County Convention Center is a publicly owned entity under the direction of the Lancaster County Convention Center Authority.