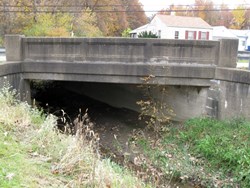 The new Sugar Ridge Road Bridge will provide a safe and reliable structure for the 4,000 vehicles that use it daily. - Michael J. Malloy, P.E., KS Associates Director of Transportation Services
Elyria, Ohio (PRWEB) January 30, 2014
KS Associates, Inc., a civil engineering and surveying firm located in Elyria, Ohio, has been selected as the lead design consultant for the Sugar Ridge Road Bridge Replacement Project in the City of North Ridgeville, Ohio. KS Associates is on a Design-Build team with Schirmer Construction LLC. All planning, design and construction services will be provided to the Lorain County Engineer's Office. The project has an estimated construction cost of $210,375.
The project calls for removing an existing concrete bridge, built in 1931, and replacing it with a new precast concrete structure. Work also includes associated roadway improvements. The new Sugar Ridge Road Bridge will be designed with a load rating of HL-93, which will allow heavier vehicles to use the bridge giving them direct access to their destinations, including local businesses.
According to Michael J. Malloy, P.E., KS Associates' Director of Transportation Services, "Load rating by the Lorain County Engineer's Office indicated that the 80-year-old bridge would have to been restricted to lighter vehicles, due to long-term deterioration and the additional load placed on the bridge as a result of resurfacing projects. If the bridge was not replaced, larger vehicles, such as semis, snowplows and garbage trucks, would have to be restricted, requiring them to take longer, detoured routes to their destinations. The new Sugar Ridge Road Bridge will be designed to support heavy vehicles, and will provide a safe and reliable structure for the more than 4,000 vehicles that use it each day."
About KS Associates, Inc.:
KS Associates, Inc. is a civil engineering and land surveying firm founded in 1987. The firm provides planning, design, bidding and construction phase services related to public infrastructure projects in the areas of transportation, potable water, waste water and storm water; site development engineering services for institutional, commercial and residential uses; coastal engineering services; land surveying and mapping services; and 3D laser scanning services. KS Associates, Inc. is a Disadvantaged Business Enterprise (DBE). For more information visit: http://www.ksassociates.com.