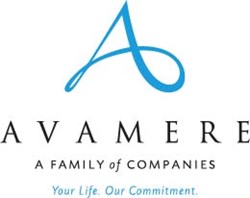 Helen is always engaged in conversation with residents and staff and truly brightens the day of everyone she encounters.
Portland, OR (PRWEB) January 28, 2014
Staff and residents of Avamere at Bethany – an independent senior living campus – celebrated the 102nd Birthday of Helen Roberson. Helen's loving multi-generational family and members of the surrounding community joined in celebrating her special day.
"I have had a very rewarding life; blessed with a loving husband for 70 years, busy raising my five children, caring for the grandchildren, sharing my faith with many people and doing my best to show love and concern for everyone that comes into my life," says Helen.
Born Helen Edna Milard on January 18, 1912, her ancestors immigrated to the United States from Holland in the 1600s. Helen's grandfather witnessed one of the most significant American historical events – the assassination of President Lincoln. Her grandfather, recovering from injuries sustained during the Civil War, decided to take in a show at the Ford Theater on the night President Lincoln was shot.
Helen grew up on the great plains of Kansas where her father and mother tended the fields and raised eleven children. She received her education in a one-room schoolhouse, braved wicked tornados, and resisted the call to become a farmer herself. "We were up very early. We always ate together. Daddy would listen to the news on an old radio and tell us about it. On Sundays, I would tour around town in the Model T with my girlfriends Juanita and Julia," Helen recalls.
In 1919, her oldest brother, George, was called to active duty and served during WWI. Helen and her sister visited George on the base before his deployment and remember eating in the barracks on long, rough tables and benches.
As a teenager, Helen worked at a hamburger shop just a block from the town gas station where Glenn Roberson worked. They went steady and married on Glenn's 18th birthday. At 17, Helen had arranged all the details and made her own wedding dress. Glenn's salary at the time was $80 a month. Soon, the Great Depression hit, the shop closed, and Glenn had no work.
Helen and Glenn moved to New Mexico where they lived in a railroad car and Helen fixed meals for the workers. At one time, Glenn hauled coal from the Grand Canyon to Colorado by dump truck. Later, Glenn finished high school and college, and became a Nazarene minister of the gospel. Around this time, Helen and her now family of six arrived in Huntington Beach, CA with no place to live and only five dollars.
Helen stayed busy as a pastor's wife. "We entertained a lot; it was roast beef or chicken in the pot every Sunday for unexpected guests. I was always available to visit with Glenn when he called on his parishioners. We always lived on a small salary so I helped by taking on sewing and doing alterations for people."
"We retired in 1977, and moved to San Jose, CA. When we retired, we had a bedroom set, dining set, and $1,800 we were given as a love offering," recalls Helen. At the time, pastors lived in the parsonage. Helen and Glenn decided to move to Oregon in 1988 where they lived happily near their five daughters and their families.
After Glenn passed away, Helen continued to live in their home in Tigard, OR. "When I turned 99, my children decided it would be better for me to live where I could have assistance, home cooked meals and everyday care. After visiting Avamere at Bethany, I found my little home. I walked into room 210 and it was freshly painted a cheery yellow. I felt at home and everyone treats me like family."
"Helen is an amazing part of our community," says Lori Henning, Executive Director of Avamere at Bethany. "Her care for others radiates throughout the campus. She is always engaged in conversation with residents and staff and truly brightens the day of everyone she encounters."