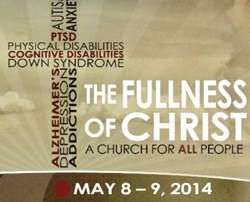 Dayton, OH (PRWEB) January 29, 2014
United Theological Seminary, announces that early registration is open for its 4th Annual Church Renewal Conference, Light the Fire! 2014: The Fullness of Christ—A Church for All People. The conference will be held May 8-9, 2014, at Ginghamsburg Church, 6759 S. County Road 25A, Tipp City, OH.
This year's conference features Marva J. Dawn, William C. "Bill" Gaventa, Barbara J. Newman, Jeremy Schipper, and more. It is designed to equip clergy and laity to be faithful in ministry with people with disabilities and will include theological discussion with plenty of "how to" sessions for creating a church of people of all abilities.
Light the Fire! 2014 will be live-streamed. Registrants will be contacted before the event with an address and password to view.
For more information, including the complete schedule and cost, or to register, visit Light the Fire! Register now and save $50. The early registration deadline is March 21, 2014 (World Down Syndrome Day).
United Theological Seminary, now in its 143rd year, is one of the fastest growing theological schools in the United States. It was founded in 1871 by Milton Wright, a Bishop in The United Brethren Church and father of Wilbur, Orville and Katharine Wright. United offers accredited, innovative graduate and non-degree education programs for both clergy and laity. Please visit United for more information.